Zumiez net sales were $125.5 million in the fiscal fourth quarter, a decrease of 0.9% from revenues of $126.6 million in Q4 last year. The decrease was driven by a comp store decline of 13.4%, offset by the opening of 58 new stores. Regionally, comp sales in the stores west of Texas were down in the negative high-teens range, while the South, Midwest, and Northeast areas were down in the high-single-digits. Internet sales were up about 50% for the quarter.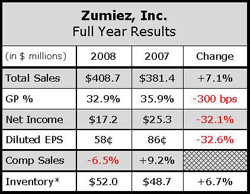 Footwear continued to be the best performing department while apparel was weakest. Sales of private label merchandise represented 15.0% of sales in the most recent quarter, compared to 15.4% of sales in Q4 last year. Management said that the shift in private label is due to the strength of some of the smaller brands that Zumiez has been adding. Zumiez will continue to highlight these smaller brands and also create a multi-tiered price structure, to reflect the current environment and pressure on perceived price and value by the consumer.

Gross margins for the fourth quarter decreased 600 basis points to 32.4% of net sales, compared to 38.4% last year. SG&A expense increased to $31.9 million or 25.5% of sales, compared to $29.2 million or 23.1% of sales last year. Management said that SG&A grew at about half the rate of square footage growth due to strict cost controls.
Net income for the fourth quarter was $6.3 million or 21 cents per diluted share, compared to $12.4 million or 42 cents per diluted share last year.

Looking forward at 2009, Zumiez is planning to open 37 new stores: seven in the West, seven in the South, ten in the Midwest, and 13 in the Northeast. The company will also invest in its e-commerce infrastructure and merchandising systems. For the first quarter of fiscal 2009, management currently expects sales to be in the range of $73 million to$ 76 million. This assumes a negative mid- to high-teens comp decline. This would result in a loss per diluted share of approximately 17 cents to 13 cents, and operating margins falling by about 10 full percentage points. Full-year earnings are expected to be below last year with a same-store sales decline.