Zumiez Inc. saw total net sales decrease 2.4% to $76.8 million for the first quarter ended May 2 from $78.7 million reported in the year-ago period. The action sports retailer posted a net loss of $1.7 million or 6 cents per diluted share, for the quarter, versus net income of $1.4 million or 5 cents per diluted share in the first quarter of the prior fiscal year. Comparable store sales decreased 15.3% in Q1 on top of a decrease of 0.8% for the first quarter of 2008.


Zumiez first quarter sales in the western half of the U.S., which CFO Trevor Lang said represents about 55% of all of all Zumiez comp store sales, were down approximately 20% for the quarter, while stores in the South, Midwest, and the Northeast comped down about 11% for the period. Web sales comped up about 40% for the quarter. Lang remarked that footwear continues to be the company's best performing department, while apparel departments remain the weakest.

In a conference call with analysts, Zumiez CEO Rick Brooks said the company is currently evaluating the assets of Southern California action sports off-mall retailer Active Ride Shop, which filed for Chapter 11 bankruptcy protection in March. According to court papers filed in the U.S. Bankruptcy Court of the Central District of California, Zumiez has reached an agreement pay as much as $7.2 million in cash, depending upon the outcome of a valuation of inventory by Zumiez and determination of number of stores to acquire.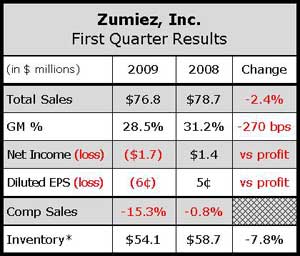 Zumiez has expressed interest in 20 of the 21 Active Ride Shop stores. The final bid will be filed on June 22.

Under the formula, Zumiez would purchase Active's entire inventory for less than market costs, as well as pay $100,000 per store acquired. As of March 30, Active Ride Shop's inventory was valued at $5.2 million. ARS expects to determine the market value of its inventory by June 10. Finally, the purchase price also includes the assumption of gift card certificates up to $1.3 million, with total consideration to be adjusted if gift card liability is in excess of $1.3 million.

Zumiez has also requested a break-up fee of $250,000 if the deal is not consummated. The deal is subject to Bankruptcy Court approval and a court auction in which other bids will be presented.

The filing notes that Active lost $7.7 million on sales of $59.9 million in its year ended March 31, 2009. In the prior year, the loss was $2.1 million on revenues of $61.8 million. The March bankruptcy filing was blamed on over-expansion and market saturation.

Active has been actively marketing its company for sale since August 2008. In March 2008, it hired PCG Capital Growth to serve as its investment banker to find a buyer. PCG had contacted 80 potential buyers, including 14 strategic buyers and 66 private equity firms but no purchase agreement was reached. Phoenix Group, a financial advisor hired as part of bankruptcy proceedings, has also entertained offers but only two offers arrived, including Zumiez.

Zumiez said it intends to open approximately 36 new stores in fiscal 2009 with an opening cadence similar to fiscal 2008. Seven will be in the West, six will be in the South, 10 will be in the Midwest and 13 in the Northeast.

Looking ahead, ZUMZ sees a net loss of approximately 17 cents to 14 cents per diluted share for the fiscal second quarter ending August 1, with sales in the range of $78 million to $82 million for the period. This is based on an anticipated comp sales decline in the low- to mid-20% range for the second quarter.