Yue Yuen Industrial Ltd. reported second quarter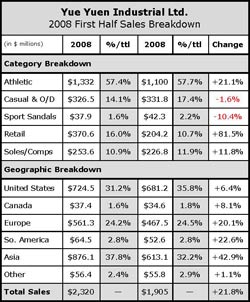 sales jumped 23.5% to $1.66 billion from $944.5 million a year ago. For the period ended March 31, athletic footwear sales, its largest category, climbed 23% to $668.1 million. Also seeing strong growth was its soles, composites and other category, surging 79.6% to $206.9 million; and retail, up 11.2% to $117.1 million.


Casual/outdoor footwear inched up 0.1% to $157 million; sports sandals slumped 29% to $16.9 million.

By region, sales climbed 9.1% to $377.3 million in the U.S., 18.1% to $250.6 million in Europe, and 44.8% to $466.4 million in Europe. In smaller regions, sales grew 8.7% to $16.2 million in Canada, 10.2% to $29.2 million in South America, and 1.8% to $26.3 million in all other regions.

Net profits jumped 38.2% to $110.7 million from $80.1 million. Gross margins improved to 25% from 23.2%.

In the six months, the total volume of shoes produced rose by 15.1% year-on-year to 127.8 million pairs. To support its growth, Yue Yuen has added 32 new production lines over the last six months, bringing the total number of lines to 430 by the end of March 2008.

In the first two months of Q3 (April/May of 2008), the group's total turnover amounted to approximately $ 875.2 million, an increase of 22.6% against the prior year. Given this sales growth, the group will continue to expand production facilities in its three existing production bases, China, Vietnam and Indonesia.