Hong Kong-based Yue Yuen Industrial (Holdings) Limited reported that revenues jumped another 28.9% in the first quarter ended Dec. 31 on top of a 28% increase in the prior-year quarter.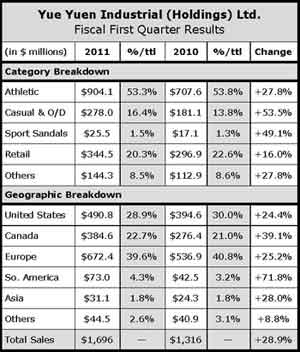 Management indicated that footwear manufacturing activity for the Group "improved significantly" on a year-over-year basis as a result of strong sales in world-wide markets compared to the same period in the previous year. For the first quarter, shoe manufacturing revenues increased 33.3% to US$1.21 billion, underpinned by shoe manufacturing volume that was up by 27.0% to 82.1 million pairs, and an average sales price of US$ 14.7 per pair that represented a gain of 5.0%.
The Group's retail and wholesale activities for athletic apparel and footwear in the Greater China Region also grew by 16.0% in the quarter to US$344.5 million.

The U.S. business came back strong in fiscal Q1, signaling a solid shipment season for Spring '11 product. Revenues to the U.S. were up 24.4% for the period to $490.8 million. Sales to the Group's largest geographic market, Asia, grew at a stronger pace as well, posting growth of 28.0%. The European market, the largest by volume shipped, posted 25.2% growth for the quarter.

Sales of athletic shoes, the key product category for the Yue Yuen, experienced 27.8% growth, more than double the growth rate in the fourth quarter. Shipments of Casual and Outdoor Footwear posted the highest growth rate, surging 53.5% in fiscal Q1 to US$278.0 million. Sandals shipments jumped 49.1% for the period.

Retail sales grew as China continued to experience solid GDP growth and consumers in China maintained their preference of purchasing athletic footwear and apparel of well known brand name.
Total revenues for the 2010 quarter were US$1.70 billion versus US$1.32 billion in the year-ago period.

However, higher input costs may be having a significant impact here as gross margins declined 230 basis points to 23.7% of sales in fiscal Q1 from 26.0% of sales in the prior-year period. Still, Yue Yuen still posted a 19.8% increase in net profit to US$149.7 million in the fiscal first quarter.