Yue Yuen Industrial Ltd., the Chinese manufacturing behemoth that makes footwear for many key athletic and outdoor brands, reported consolidated net revenues improved 12.8% to $1.34 billion in the fiscal second quarter ended March 31 from $1.19 billion in the year-ago period.

Management said wholesale and retail operations in the Greater China region were primary catalysts in sales improvement for the first half, while sales within the United States segment also improved substantially. Sales to the company's largest regions, including the U.S., Europe and Asia, improved 7.4%, 10.8% and 19.8%, respectively. Sales to these regions accounted for 93.9 % of total Group sales during the quarter, with Asia accounting for 43.0% versus 40.6% in fiscal Q2 last year.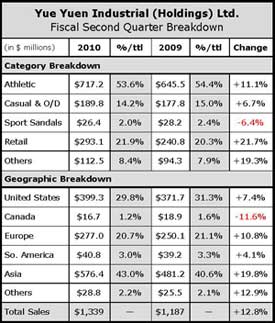 By business segment, footwear manufacturing continued to account for the majority of the company's business, making up 69.7% of total sales for the quarter. Footwear manufacturing revenues increased 9.6% to $933.4 million. Retail inched up as a percent of total revenues, growing 21.7% to $293.1 million, or 21.9% of total revenues.
Management added that for the first half of fiscal 2010, total volume of shoes produced increased by 4.7% to 136.1 million pairs, a result of "the sturdy order flow from existing customers and new customers." The total number of production lines grew by 5.2% to 445 lines as of the end of March 2010.

Regarding outlook, management for Yue Yuen said sales for the first two months of the fiscal third quarter improved 17.6% to $1.01 billion, adding that sales for footwear manufacturing "should be firm" on the back of the 2010 World Cup advertising activities of brand name customers.

Company Chairman Tsai Chi Neng said in a statement "(Yue Yuen) looks forward to the continuing economic growth of China and the increase in consumer spending by its citizens."