Executives for Wenonah Canoe Inc. and C4 Waterman announced their merger last week in a deal that catapults Wenonah into the rapidly growing SUP market and provides C4 Waterman with a profitable parent with deep expertise in composite materials, construction and supply chain management.


"The addition of C4 Waterman's SUP, safety, rescue accessories and apparel products to Wenonah's brand stable makes Wenonah a one-stop-shop for SUP, kayak and canoeing," said Bill Kueper, VP for Wenonah, which also owns composite kayak makers Current Designs and QCC, a composite kayak manufacturer it acquired in 2011. "Obviously, we expect immediate positive gains in revenue. The C4 Waterman brand is the modern pioneer in SUP and related categories. Therefore, our growth expectations for the C4 brand exceed the SUP market as a whole."
Wenonah is among the oldest founder-owned paddlesports brands and its financial backing and expertise in composite boat construction will allow C4 Waterman to bring more of its ideas to market in spring 2015, said C4 Waterman President and Co-founder Todd Bradley.
"We are very excited because in early days our group had a history of making composite canoes and paddleboards," Bradley said, referring to his partners Archie Kalepa and Brian Keaulana. "Wenonah is one of largest composite builders in America and we are starting to look into specialty high-end models made in America. It's great for their employees too because canoes are fading, but they have all this technology and craftsmanship."
C4 Waterman will continue to design and innovate from Hawaii and source its existing line of boards from Asia. But it will
now piggyback on Wenonah's distribution infrastructure, which includes a fleet of trucks used to supply North American dealers. Bradley estimated the companies' dealer bases overlap by half.
C4 Waterman's partners spoke with several interested investors, but became convinced that going with a small, privately owned company that understood the importance of authenticity provided the best path forward.
"There are huge, massive corporate companies, where it comes down to hard numbers, which is important," said Bradley. "But I don't think they really get how important the culture of a brand is, especially in early stages of an industry. This is a new, growing industry and it's so important that the owners believe in that."
The merger culminates a long and close relationship between the two companies. Wenonah's Founder/Owner Mike Cichanowski introduced C4 Waterman to the outdoor industry in 2007 by giving the startup a corner of its booth at Outdoor Retailer Summer Market.

By 2010, more than two dozen exhibitors were displaying SUPs at the show and The Outdoor Foundation estimated that 1.1 million Americans had participated in the sport at least once. By 2013, that number had grown nearly 50 percent to 1.5 million, while participation in canoeing had dropped by about 800,000, or nearly 7 percent to 9.8 million. Participation in the recreational and sea/touring markets served by Current Designs and QCC, meanwhile reached 10.5 million, up nearly 2 million, or 23 percent.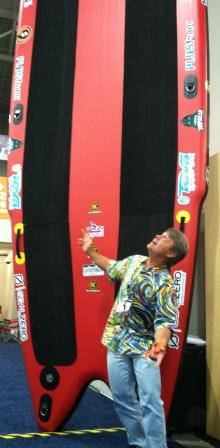 The deal also comes as Wenonah and other canoe manufacturers are struggling to find a replacement for Royalex, a durable and lightweight material the industry has used for decades. Wenonah used Royalex in 16 of its entry-level canoe models last year, but the company that manufactures it announced last July that it would stop shipping the product in July.
"Our inventory position today is strong," Keuper said of Wenonah's supply of Royalex canoes. "This will change rapidly as we move into spring. Already we see shortages on the horizon in specific SKUs, mostly limited by colorway. We'll continue to accept orders for ASAP delivery until the warehouses are empty. This is the "Last Chance Dance".

C4 Waterman, meanwhile, has responded to a surge in SUP vendors by sponsorsing athletes, races, events and product innovation. It has pioneered development of light-weight inflatable boards, or iSUPs, which has spurred more participation on lakes, rivers and other inland waterways. C4 Waterman Athlete Charlie MacCarthur spearheaded whitewater SUP in Colorado. The company endeared itself to the outdoor industry when it set the Guinness Book world record for the largest SUP by putting 31 paddlers on SUPzilla – a 32-foot, 5-inch-long board – at the Open Air Demo during ORSM 2011.
"As we've always said, 'waterman' is more than a word, it's a lifestyle," said C4 Waterman Co-Founder Keaulana said. "No single piece of equipment defines a waterman. Partnering with Wenonah Canoe will allow us to become the company we have always envisioned: a lifestyle brand providing the best quality products to make the waterman's time on the water as productive and enjoyable as possible."
---
Editor's note: CR Waterman CEO Todd Bradley, shown above posing with SUPzilla at the Outdoor Retailer Winter Market in 2011, was unable to attend the show last week because he was recovering from the placement of steel pins in both his heels. He fractured both when a tie down he was yanking to secure boards on the roof of his 25-foot power boat snapped. While falling from the gunnel of his boat to the ground 15 feet below, Bradley somehow managed to land on his feet, sparing what could have been significant head trauma. "I'm glad I do yoga regularly, because I stuck that landing," Bradley told The B.O.S.S. Report from his home in Hawaii. Unfortunately, the impact fractured both his heels and Bradley is confined to a wheel chair for the next few months. He hopes to use the downtime to learn CAD and recover enough by March to attend Canoecopia in Wisconsin.