After Apple announced lower-than-expected performance over the holiday season on January 2, Wells Fargo in a note said concerns over slowing growth in China may cause a "negative read-through" for Nike, Adidas, Skechers and other consumer-goods companies with big exposures to China.
Among the active-lifestyle stocks under Wells Fargo's coverage, Adidas is estimated to generate 18 percent of its sales from China; Nike, 15 percent; Skechers, 14 percent; VF Corp. and Under Armour, both 5 perfect; Lululemon, 4 percent; Canada Goose, 2 percent; and Hanesbrands, which includes the Champion brand, 1 percent.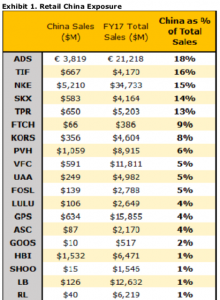 In the note, Ike Boruchow and Tom Nikic, both senior analysts, wrote that Apple revised its sales for the first quarter ended December by approximately $7 billion, or 7 to 8 percent, as it saw traffic to their retail stores in China declining as the quarter progressed. The softer traffic was attributed to rising trade tensions with the U.S. and a slowing macro environment. Notably, Apple stated that over 100 percent of the year-over-year revenue decline of $4 billion was attributable to China, which would suggest that total sales in China were down 20 to 25 percent year-over-year (assuming China was 20% of sales a year earlier).
Wells Fargo said that as noted in its 2019 Retail Outlook report that came out on January 2, the multi-national brands in its coverage universe had already been under growing pressure for several reasons over the past six months, including: currency-headwinds swinging from tailwind to headwind, tourism going "from good to bad," Europe becoming "very problematic" and fears around an eventual slowdown in China. The analysts wrote that Apple's release now adds "more 'fuel to the fire" on this last point."
Wells Fargo noted that commentary from companies under its coverage regarding China has been mixed.
Tiffany, for instance, where Wells Fargo estimates that between 25 to 30 percent of total demand comes from Chinese consumers, attributed a slowdown in Chinese tourism demand as the primary driver of their comp-sales deceleration.
Skechers called out a challengingly-promotional Singles Day environment at a recent investment-community meeting. PVH noted that China outperformed expectations in its third quarter but softer traffic trends were seen in the country.
On the positive side, Nike called out accelerating sales trends in China in second quarter ended November and official said they haven't felt the impact of the trade war.
Wells Fargo summed up the note, "All in, the news out of AAPL might not be 100 percent applicable to all the brands in our space today (the positive tone from NKE – a bellwether name for space – is encouraging), but at the very least this gives retail bears yet another reason to remain cautious towards our group."
Image courtesy Nike