Meet four young women from Minnesota who are setting off on an epic bike trip to help protect public lands.
Writer: Carly Terwilliger
Public lands recently had their high-profile day in the sun when crowds took to the Salt Lake City streets during the Outdoor Retailer Summer Market. The march was a gratifying spectacle for anyone following and championing the public lands issue, and it inspired us to look around for other smaller – but no less inspiring – groups who are embarking on their own mission to protect the wild places they love.
We caught up with Hannah Field of Women On Wheels For Wild Lands (WOWFWL) to find out why four young women from Minnesota are taking to their bikes on a three-and-a-half month coast-to-coast ride across the U.S. on a quest to help protect public lands.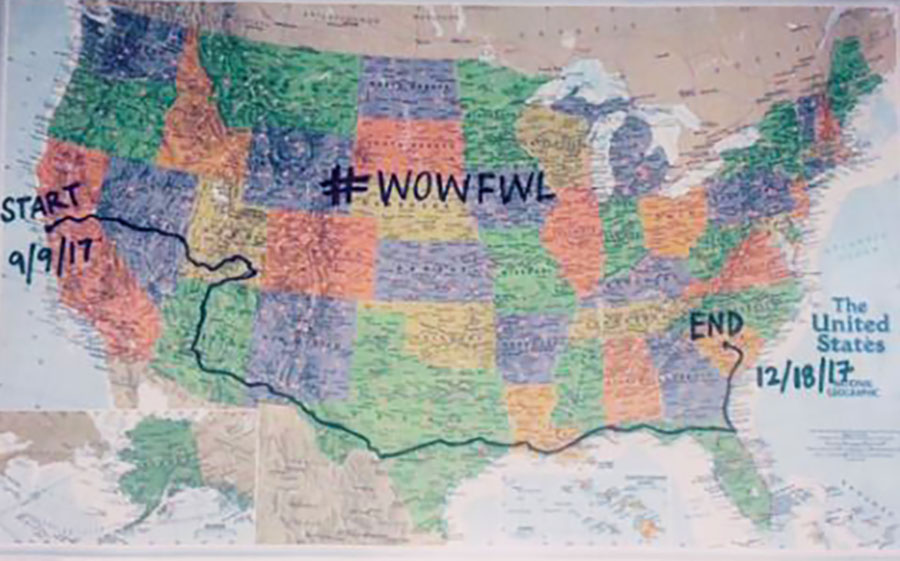 Who are the members of WOWFWL, and where was their connection to public lands born? The core members of WOWFWL are Katie Ledermann, Hannah Field, Alex Benjamin and Ariana Amini (pictured above). All four women graduated college in 2017 – Katie from the University of Minnesota – Morris, Alex from Montana State University and Hannah and Ariana from Macalester College in St. Paul, MN.
All four women grew up hiking and camping in state and national parks, canoeing in northern Minnesota's Boundary Water Canoe Area Wilderness and fishing in Minnesota's many lakes.
A lot of high-profile outdoor companies have been outspoken advocates of the issue. Have any signed on as sponsors? The Sierra Club has been helping us connect with their different chapters in states along our route for us to meet with. Same with the Southern Utah Wilderness Alliance. The Trust for Public Land has offered to write about our mission on their website. The Sierra Forest Legacy has also reached out to meet with us and talk about recommended wilderness protection areas that they are working on and near our route. We have also had some bike stores, companies and associations help us out with gear, like Adventure Cycling and Park Tool.
Which bike models and gear are you using on your journey? A Surly Long-Haul Trucker, a Specialized Dolce, a Salsa Vaya, and one more bike that has yet to be obtained. We'll be traveling fully loaded, with all the bike, camping, cooking and media-creation gear we will need for the three months.
How are you going to start and continue conversations with people about what you're doing? We hope to set up conversations and meetings with organizations, folks managing public lands and legislators beforehand, and give them a rough estimate of when we'll be going through their area. We will also contact more along the way if we hear about them or they express interest in interviewing with us. We hope to ask these organizations and legislators about their work involving public lands, and ask them to share their expertise with the local land and people that most folks may not know about a particular place or issue surrounding that public lad.
While we're visiting public lands, we will ask folks about their personal reasons for being there or what meaning they find in the area, or if they have any special memory of a time they spent in outdoor public spaces. We might also ask individuals in national parks and at national monuments if they have any concerns about the protection of public lands. If they're curious to know more about what we're doing, we'll tell them about the threats posed to public lands by their potential transfer from federal control to state control, and how they themselves can help fight against that by getting involved and making their voice heard.
We're also interested in talking with people who may not necessarily agree with our side of things – to include many voices and perspectives that are at play in the debates around public lands. We will make it clear that the WOWFWL mission is education and raising awareness on the issue, and that including all perspectives is an important part in finding solutions to a problem.
Any destinations on the route you're particularly excited about? Southern Utah, a hotbed of public lands and public land disputes. The American Red Rock Wilderness Act currently in Congress proposed nine million acres of land in Utah for permanent wilderness protection, which means it cannot be developed and will be better maintained. The Act is landmark legislation, and it will most likely never be passed in its entirety.
But small successes have been made and continue to be made with the proposed land with smaller pieces of legislation. There are many energy and drilling companies that would love to buy up land in the state, but there are also many Native American tribes, outdoor recreationalists, environmental advocates and politicians across the country rallying for protection of these lands and the passage of federal legislation that would help make this possible.
To learn more, visit womenonwheelsforwildlands.com.
Photos courtesy WOWFWL