Vail Resorts Inc. lowered guidance March 12 on what it expects to earn from its resort operations in fiscal 2015 to reflect a $37 million revenue shortfall at its Tahoe resorts, where snowfall was running 42 percent behind last year's very low levels as of the end of February.
---
Tahoe region's plunging snowpack and skier visits offsetting strong growth at Colorado and Utah resorts
Season-to-date pro-forma retail sales up 2.9 percent at resort locations as of March 8
Will spend $10 million adding coaster, canopy tour and summer tubing at Vail by July 31
---
MTN said it now expects Resort reported EBITDA for the fiscal year ending July 31, 2015 to come in at the bottom half of the $340-to-$350 million range it forecast in September, 2014. That is still 27 to 30 percent ahead of the $199.7 million the company reported for the fiscal year ended Jan. 31.
MTN said demand remained strong at its resorts in Colorado and Utah through February, but skier visits to its three resorts in the Tahoe area had dropped more sharply since the New Year.
"That was a major impact to decelerating the metrics from right after the holidays to March 8," said CEO Rob Katz.
As of March 8, season-to-date skier visits to all nine of the company's mountain resorts were down 0.3 percent, compared to the comparable period last winter. However, ski school and dining revenue were running 2.1 and 4.8 percent ahead of year ago levels and Retail/Rental revenue for MTN's resort store locations was up 2.9 percent.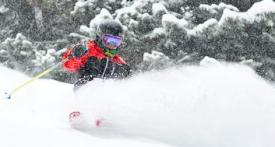 Skier plows through fresh powder at Vail Resort Feb. 6. (Photo by Connor Walberg)
Lift ticket sales, including an allocated portion of season pass revenue for each applicable period, increased 8.0 percent compared to the prior year season-to-date period. The figures are adjusted as if MTN owned Park City in both periods and exclude results from its urban resorts of Afton Alps and Mt. Brighton in the Midwest.
Skier visits and financial results also slowed at the Vail and Beaver Creek resorts in February when the two Colorado resorts hosted the 2015 World Alpine Ski Championships. Global television coverage of the events, however, is likely to generate long-term benefits for the resorts.
MTN released the guidance and season-to-date metrics in its earnings report for the second fiscal quarter ended Jan. 31. That report showed Retail/Rental revenue increased $9.3 million, or 10.8 percent, compared with the year earlier quarter thanks primarily to strong performances in and near its Colorado and Utah resorts and the addition of the Park City resort, which was acquired in September, 2014.
Overall Mountain revenues increased at an even faster 18.2 percent pace thanks to 22.5 percent growth in lift ticket sales that was primarily driven by a 15.9 percent growth in visitation and a 5.7 percent increase in effective ticket price compared to the prior year. Ski school revenue and food and dining revenue rose 22.1 and 18.5 percent respectively compared to the second fiscal quarter of 2014 thanks to contributions from Park City, which MTN acquired in September 2014. Excluding Park City, lift revenue excluding season pass revenue increased 12.7 percent for the fiscal quarter compared to the prior year.
Mountain Reported EBITDA increased $46.1 million, or 31.1 percent, for the fiscal quarter compared to the same period in the prior year.
MTN disclosed plans to spend approximately $10 million in 2015 building a mountain coaster, canopy tour and summer tubing courses at Vail. The company will also build kids' activities on private land at Breckenridge and lay plans for summer infrastructure projects at Vail, Breckenridge and Heavenly.
MTN expects the new summer activities at Vail and Breckenridge will contribute $4-to-$5 million of incremental resort reported EBITDA during calendar year 2016, which will be reported in both fiscal 2016 and fiscal 2017.