U.S. soccer veteran Ali Krieger has chosen to wear performance protection headgear from Unequal Technologies during this month's women's soccer tournament in Canada.
The Unequal Halo is ASTM-certified and FIFA Law 4-approved and made with TriDur, Accelleron and other materials. TriDur is a patented, hermetically sealed aramid fabric used by the military and law enforcement that's 5x stronger than steel with virtually unmatched ability to absorb and disperse high impact energy. Barely 10mm thin, the Halo contours to any players' head, looking just like a headband while offering serious protection.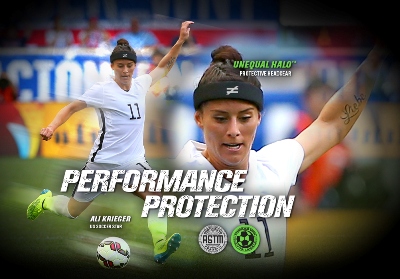 Krieger chose Unequal after suffering her second career concussion in April.
"I had never worn protective headgear before, so I was surprised how comfortable, and lightweight the Unequal Halo is," said Krieger, who wore it during recent friendlies versus Mexico, Ireland and South Korea. "The fact that that it helps protect me and doesn't affect ball control made it an easy decision to wear in the World Cup and beyond. I have learned the hard way that concussions are not fun. Unequal has empowered and bolstered my confidence."
Steve Holeman, former Head Soccer Coach at UGA, Ole Miss and Auburn and current Chairman of Unequal's Soccer Advisory Board says, "to see world-class women soccer players taking head protection seriously is an exciting development for the sport. Females are at a risk of sustaining a concussion arguably second only to American football (per 10,000 athletic exposures). With the technology and science behind the Unequal Halo, I truly believe this is the product of the future in our sport."
Unequal Technologies develops products to protect people in the military, sports, work and life. Its patented fusion of a military-grade composite made with TriDur, Accelleron and optional ImpacShield is engineered for customized, concealed protection. Professionals in all sports and thousands of collegiate and youth athletes wear Unequal's protective head and body gear.