2016 has proven to be the year of the Curry. After slowly rolling out the series of long awaited Under Armour Curry Two shoes – so far a tidal wave of success – the company unveiled the newest style: a dad trainer?
No, Under Armour didn't market it that way but since its June 9 release, the "Chef" low style has been ridiculed online for its shockingly basic, older aesthetic. Compare it to the Two Elite, or colors like Dub Nation, Father To Son and Floor General, and it's no surprise the Chef is getting trolled.
White on white, these sneakers have been compared to Forrest Gump, Seinfeld and grandma shoes leaving the footwear community wondering if Curry or Under Armour have gone completely mad. During the same week the Chef was launched, Under Armour shared that the mastermind designer behind the Curry One will be returning to the company as Chief Design Officer. Dave Dombrow did a u-turn after accepting a job at Nike. Maybe Under Armour knew it missed the mark on the Chef or maybe Dombrow saw the success of the second Curry iteration and said, 'I want another piece.'
But quantifying the Curry Two by 'pieces' is an understatement. The Curry Two, despite many predictions, significantly outsold Nike LeBrons. Within only six months since its release, the Two has absolutely killed the basketball footwear market, making it to a Top 5 spot for most popular model sold year-to-date through June 4, 2016 while outgrowing its older sibling not by 100, 200, 300, or even 400 percent, but by more than 600 percent, according to SSI Data.*
It's important to note, we're not exactly looking at apples to apples in the Curry One|Two comparison, since a big part of what's driving amped sales is the expansion of models and colors, including options for Mother's Day, Father's Day and All-Stars. But in the end, growth is growth, and these numbers don't account for the dad Chef style, which despite its ridicule will sell as they all do.
Here's why we think the Chef will sell.
Thousands of kids and teens looking to purchase the Curry Two will go to the mall with their dads. During the purchasing process, where the kids will be drawn to a high-top color like Iron Sharpens Iron, dad sees a pair that gives him street cred with the yungins' but suites a more reserved style. Just last week SGB Sports & Fitness saw a dad wearing Kanye West Yeezus Boost sneakers, saying his daughter pointed them out for him to buy during a shopping trip for her. So kids, show your parents you care by recommending a trending shoe in a neutral color. Parents, you really will get street cred — plus today's trending sports footwear, especially basketball shoes, are made with elevated comfort and support in mind. The Chef also has potential to sell with, well chefs, but also consumers who participate in court sports like tennis that require white sole shoes.
Curry confronted the haters head-on by wearing the Chef lows during an interview the day before Game 5 of the NBA Finals. On the toe of the shoe he wrote, "Straight Fire (flame emoji)." He's not backing down from the design choice – maybe because Steph himself is a dad.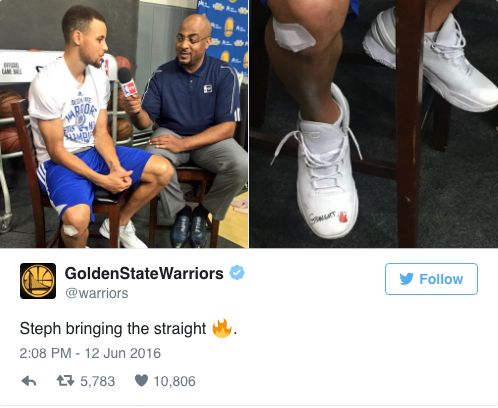 So before you believe the hype that Curry and Under Armour lost their touch, think about the possibility the Chef brings to expand sales, bring new (older) consumers into the fold and convert a family instead of just one kid into an Under Armour loyalist.
If it does work, maybe next year we'll see a pair of "Dad" LeBrons.
*SSI Data, powered by SportsOneSource, collects and analyzes POS data from more than 20,000 retail doors across nine channels of distribution. To learn more contact Ben Pickel, Sports & Fitness Category Manager, SSI Data | SportsOneSource at 303.997.7302 or email bpickel@sportsonesource.com.
Photos courtesy Under Armour