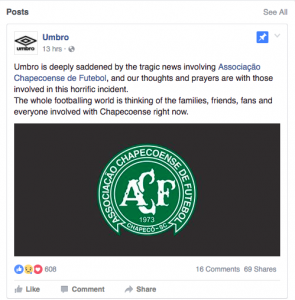 Umbro, a long-time kit sponsor, honored the Brazilian soccer team across its social media channels.
Umbro wrote on its Facebook page, "Umbro is deeply saddened by the tragic news involving Associação Chapecoense de Futebol, and our thoughts and prayers are with those involved in this horrific incident. The whole footballing world is thinking of the families, friends, fans and everyone involved with Chapecoense right now."
The team's plane on Monday evening crashed in Colombia, killing all but six of the 77 people aboard. The six survivors were identified as soccer players Alan Ruschel, Jackson Ragnar Follmann and Hélio Hermito Zampier, flight attendant Ximena Suarez, aircraft mechanic Erwin Tumiri and journalist Rafael Valmorbida.
The British sportswear and football equipment supplier, which is based in Manchester but owned by Iconic Brand Group, has been the kit sponsor for the team since at least the seventies.