On Sunday, President Donald Trump threatened to impose higher tariffs on China in a tweet, dashing hopes that Washington and Beijing would reach a trade deal in the near term. The prospect of a wider trade war sent global financial markets tumbling on Monday.
The president tweeted that tariffs on $200 billion of Chinese goods will increase to 25 percent on Friday, despite signals that steady progress was being made toward reaching a trade pact in recent weeks.
The tariff rate on those goods was originally set at 10 percent. Trump had initially threatened to increase the tariffs at the start of the year, but postponed that decision after China and the U.S. agreed to further trade negotiations.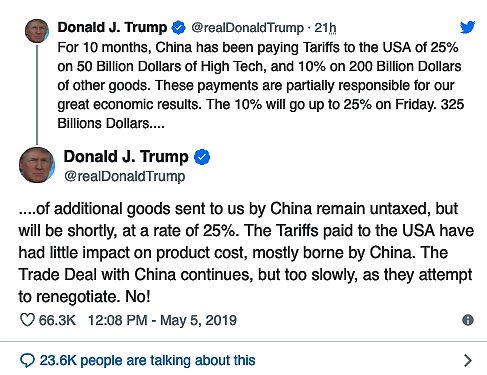 In addition, Trump on Sunday threatened to impose 25 percent tariffs on an additional $325 billion of Chinese goods "shortly."
The president indicated the trade talks are moving too slowly as Beijing tries to re-negotiate.
The Dow futures plunged about 500 points on Monday morning after Trump's surprise tweet. Overseas markets were also a sea of red, with China's Shanghai Composite plunging 5.58 percent and Hong Kong's Hang Seng index tanking 2.9 percent. Europe's benchmark Euro Stoxx 50 dropped 2 percent.
The U.S. imports goods from China totaling $539.5 billion and the trade deficit stood at $419.2 billion in 2018, according to the Office of the U.S. Trade Representative. If Trump follows through with his threats, virtually all goods imported from China to the U.S. would face some sort of tariff.
The White House indicated as recently as last Wednesday the latest round of talks had moved Beijing and Washington closer to an agreement. Press secretary Sarah Sanders said, "Discussions remain focused toward making substantial progress on important structural issues and re-balancing the U.S.-China trade relationship."
Liu He, the Chinese vice premier overseeing economic policy and Beijing's lead trade negotiator, had been set to travel to Washington for talks scheduled for Wednesday that were widely seen as the potential last round before reaching a trade deal. Earlier Monday, a Chinese government spokesman told CNN they were still planning to move forward with the talks, set to begin Wednesday, but a U.S. official said it was still unclear whether it will be led by Liu He, the vice premier and chief trade negotiator, and whether this round of negotiations will be truncated after Trump's tweets threatening additional tariffs.
Major sticking points between the U.S. and China have been intellectual property theft and forced technology transfers. There has also been disagreement as to whether tariffs should be removed or remain in place as an enforcement mechanism.
US Trade Representative Robert Lighthizer has insisted that some of the US tariffs on $250 billion of Chinese goods will remain in place while demanding that China rescind all of its retaliatory tariffs, according to several media reports last week. In addition, the US side has proposed an "enforcement mechanism" for future infractions that would allow the United States to impose punitive tariffs but forbid China from doing so.
China has refused to accept the American demands, a Chinese government official told Asia Times. "One for you and zero for me isn't the basis for an agreement," the official said. In the worst case, the official added, China would have to "shrug its shoulders" and walk away from the negotiations.
Lead image Nicolas Asfouri/Agence France-Presse — Getty Images