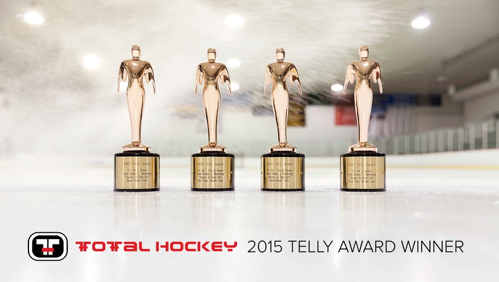 Total Hockey Inc. has been awarded four Bronze Telly Awards for commercial spots created in 2014. Two commercial spots began airing in October and continue to this day, while the remaining spots aired during the 2014 holiday season.
The Telly Award is the premier award honoring outstanding local, regional and cable TV commercials and programs, the finest video and film productions, and web commercials, videos and films.
"This is an enormous honor for not just the video crew, but everyone of Total Hockey," said Chris Pickup, Total Hockey's video production manager. "It's a validation from our peers in the film and broadcast world of our drive and determination to produce excellent creative content that sets us apart from our competition. It was a humbling experience to learn that we were receiving this prestigious recognition."
Total Hockey's commercials won in both the use of humor and sports/sporting goods categories. All four spots featured the theme Hockey in Real Life, which displayed regular people attempting hockey-related tasks in everyday scenarios. This included a man taping his work socks as he would shin guards in a hockey game and a husband spraying water on his face with a water bottle as he sat down with his family for Christmas dinner.
"These commercials got more reaction from our audience than any commercial we've done in the past," Pickup said. "People were commenting, posting and sharing them. That continued for months after its release. Whether a player or not, people related to the characters in the spots."
The 2015 Telly Awards received nearly 12,000 entries from all 50 states, as well as numerous countries. Judging for each award is conducted by a panel of over 650 accomplished industry professionals, each a past winner of a Silver Telly and a member of The Silver Telly Council. These professionals evaluated each entry, recognizing distinction in all work.
"We work hard every day to produce work that differentiates Total Hockey," said Frank Castiglione, chief marketing officer for Total Hockey. "It was a treat to produce spots that drove business and were recognized by the Telly Council as great work."
In June, St. Louis-based Total Hockey announced it was buying Denver-based Players Bench. The move will give the combined company 32 total stores in 12 cities across the U.S.
For more information on the Telly Awards, please visit tellyawards.com.
To view Total Hockey's award-winning commercials, check out the Total Hockey #LoveYourGame YouTube playlist.