The Timberland Company's third-quarter profit beat market expectations, benefiting from fatter margins and revenue growth overseas. In North America, sales declined as robust sales in its smaller categories of Earthkeepers, Outdoor and Elite collections were not enough to offset the declines in Classics. Nonetheless, fewer closeouts boosted margins in the region.


Earnings jumped 38.2% to $52.2 million, or $1.00 a share, in Q3, easily besting Wall Street's consensus estimate of 77 cents a share. Revenues nudged up 2.5% to $432.3 million and increased 5% on a constant dollar basis. Foreign exchange rate changes decreased revenue by $11.4 million, or 2.7% for the period.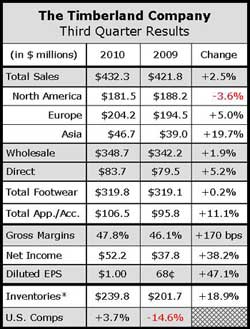 By region, North America revenue declined 3.6% to $181.5 million, impacted by weakness in the Wholesale footwear. On a conference call with analysts, Timberland indicated that double-digit revenue growth at SmartWool offset declining kids' and women's footwear sales at Timberland brand. Although women's wholesale footwear declined, new product placement led to double-digit increases in the North American owned-retail business for the gender, albeit off a small base. Men's footwear was up 2%, driven primarily by the Timberland Pro business.
Wholesale revenue was down 4% as off-price product sales were nearly half of year-ago levels. First quality revenue was essentially flat. In the North American Consumer Direct channel, comps were up 3% though revenue was down 1% due to the closing of four outlet stores and a decline in e-commerce due to less frequent promotions in the quarter.
Europe revenue climbed 5.0% to $204.1 million and increased 12.3% on a constant dollar basis, driven by increases in kids' and women's footwear. Double-digit revenue growth in Scandinavia and the distributor markets offset double-digit declines in the Benelux region from the impact of unfavorable foreign exchange rates. Wholesale revenue increased 5% and retail increased 3%. Owned-retail comps in Europe increased 10% for the quarter.

Asia revenue jumped 19.7% to $46.7 million and 13.3% on a constant-dollar basis, driven by continued expansion in China and Taiwan as well as favorable foreign exchange rates. Wholesale revenue in Asia increased 18% and retail ran up 22% with comps of 9% and the net opening of 10 stores since Q3 of last year. The increase in both wholesale and retail segments in Asia were driven by a "substantial increase" in apparel sales.

Global footwear revenue was essentially flat at $319.8 million. Apparel and accessories increased 11.1% to $106.4 million, due to increased sales of Timberland brand apparel in Asia and SmartWool accessories in North America. Royalty and other revenue declined 9.8% to $6.1 million. Global Wholesale revenue was up 1.9% to $348.7 million as growth in Europe and Asia offset declines in North America. Worldwide Consumer Direct revenue grew 5.2%, driven by comp growth in all three regions and the net addition of eight new stores since the third quarter of 2009. Global retail comps improved 7.2% in the quarter.

Operating income increased 13.8%, driven by a significant improvement in gross margin across all regions. Gross margins were up 170 basis points to 47.8% of sales, marking the fourth straight quarter of margin gains. The improvement was primarily driven by fewer and more profitable closeouts and favorable product mix, partially offset by unfavorable foreign exchange rate impacts. On the downside, higher leather, transportation, and labor costs are expected to adversely impact gross margins in the fourth quarter and through 2011.
This will be particularly noticeable in Q4 when the industry benefited in the prior-year comp quarter from both record low leather costs and significantly lower transportation costs.

Operating expenses increased 3% due to costs related to a multi-year ERP system implementation and higher incentive compensation expenses. Marketing spend increased slightly and remained relatively flat as a percentage of revenue.

On a conference call with analysts, company President and CEO Jeff Swartz highlighted Timberland's Earthkeepers eco-collection, which grew revenues by more than 300% worldwide in the quarter. At its retail stores, which showcase the full collection, Earthkeepers grew at nearly twice the rate of wholesale. The launch of Nature Needs Heroes, TBL's biggest and most environmentally focused marketing campaign yet, particularly supported the collection.

Addressing the struggles in North America, Swartz pointed to the progress seen in boosting margins through fewer closeouts as well as the comp growth at its retail stores. He also noted that Earthkeepers' sales surged ahead more than 400% and now represents 10% of the Timberland business in North America.

In the brand's top five accounts, Earthkeepers SKUs per door more than doubled and door count more than tripled. At the same time, Timberland's Outdoor Venture collection's sales climbed 20% in the U.S., with Mountain Athletics ahead more than 40%. The collection added 42 independent outdoor accounts for fall and received extensive placement in doors such as Cabela's and Bass Pro as well as backcountry.com.

While disappointed with the Classics decline, Swartz believes the brand is successfully "resetting" with the youth market due to traction gained with its fashionable Newmarket and Abington collections as well as the outdoor-focused Fast Furious line. The Classic line is also experiencing a "significant uptick" in influencers doors such as Alife in New York City and Undefeated in Los Angeles.