The Timberland Co. reported fourth quarter sales rose 26.7% to $491.1 million, fueled by strong gains in men's footwear and its SmartWool business in North America. Earnings zoomed ahead 88.8% to $42.1 million, or 82 cents, handily topping Wall Street's consensus estimate of 51 cents a share.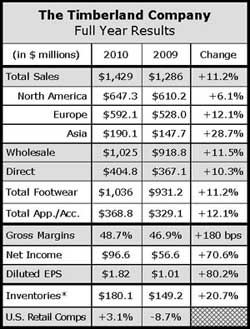 Overall revenues grew 28.1% on a constant-dollar basis, reflecting growth across North America, Europe, and Asia.
"With four successive quarters of brand-right growth, 2010 marks the moment when Timberland shifted from playing defense to playing offense," said Jeffrey Swartz, president and CEO, on a conference call with analysts.

North America revenue increased 16.8% to $252.0 million in Q4 due to improved wholesale sell-in, specifically men's footwear, and growth in SmartWool apparel and accessories. U.S. owned-retail comps increased 6.2%, driven by men's and women's footwear.

Europe revenue climbed 32.3% to $169.6 million in Q4 and increased 40.1% on a constant-dollar basis. European results reflect growth across the region, led by Germany, Scandinavia, and the Benelux region. The gains were driven by strong performances in men's, women's and kids' footwear. Owned-retail comps grew 26% in Europe.
Asia revenue increased 58.5% to $69.6 million in the fourth quarter and jumped 48.3% on a constant-dollar basis, led by Japan, Taiwan, and China. The region saw growth across all categories at both wholesale while comps ran ahead 28%.

By product category, fourth quarter global footwear revenue increased 31.2% to $358.8 million, driven primarily by men's but also supported by strong growth in women's and kids' in all regions. Women's footwear was up double-digits in 2010. Apparel and accessories revenue increased 16.6% to $125.1 million, reflecting growth in every region but driven by strength in Timberland apparel sales in Asia.

Global wholesale revenue was up 30.9% to $326.6 million with double-digit growth across all regions. Worldwide consumer-direct revenue increased 19.0% to $164.5 million with retail comps ahead 17.6%. The gain also reflected the addition of ten stores, the majority in Asia. TBL ended the year with 228 Timberland-owned stores worldwide.
Fourth quarter gross margins declined approximately 205 basis points to 48.6% of sales due to increased product cost as a result of higher leather, transportation and labor costs. This was partially offset by a more favorable mix and lower close-out trends. Operating expenses increased 11% partly due to increased marketing costs but declined 400 basis points as a percent of sales.

On the call, Swartz noted that Earthkeepers generated annual sales increases in the triple-digits in every region and across all genders. The Nature Needs Heroes campaign, along with TBL's first ever women's marketing efforts in the U.S. and the U.K., helped more than triple Earthkeepers sales with women in every regions.

But Swartz was particularly enthused about the regained momentum in North America that was helped by efforts to establish its Outdoor Performance lines such as Mountain Athletic and Hiking at core sports outlets such as Dick's Sporting Goods while establishing Earthkeepers at Macy's, Nordstrom and other specialty stores. He added that the "the Pro result was terrific and the SmartWool result was spectacular," in North America.

The Classics business stabilized and returned to positive growth globally in 2010. Swartz believes the improved Classics performance is due to better success the brand is having tapping the youth market both with marketing and product.

Timberland management did note that rising input costs will continue to hurt gross margins and the company would continue to aggressively reduce costs to shore up operating margins. Swartz also said that although Timberland's backlogs for spring are up 19%, open-to-buys remain constrained across retail.

"No retailer's in the rejoice mode," said Swartz. "Every retailer I know is the caution mode. And so, I don't think that changes anytime soon. I think that actually favors us because we are offering big ideas with integrated marketing programs. We have demonstrated that we can execute in terms of filling you in when you need product. And so I guess the early indications that I am seeing from Fall are good."
Inventory at year-end increased 14%, driven by a 19% increase in global backlog, higher product costs and additional supplies to support future orders.