The Timberland Company saw fourth quarter earnings jump nearly 70% despite flattish revenues as strong growth from the SmartWool brand and performance footwear were offset by declines in boots in North America and Asia.


Fourth quarter revenue dipped 0.7% to $387.8 million from $390.6 million a year ago and were down 3.9% on a constant dollar basis. Foreign exchange rate changes increased fourth quarter 2009 revenue by approximately $12.3 million due to the weakening of the U.S. dollar relative to the euro, Japanese Yen, and British Pound.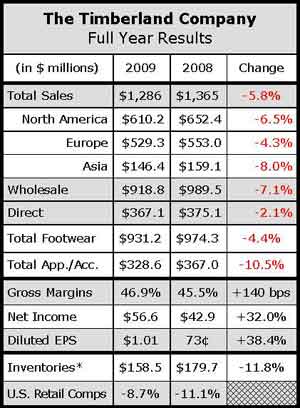 TBL reported that Q4 jumped 69.4% to $22.3 million, or 40 cents a share, from $13.1 million, or 23 cents, in the prior-year period, aided by a hike in gross margin that was driven primarily by supply chain cost favorability as well as benefits from foreign exchange.

North America revenue decreased 6.5% to $215.7 million, due to a decline in boots sales partially offset by growth in Timberland brand apparel, SmartWool, and men's performance footwear. North America owned-retail revenue was down 3%, reflecting a 5% comp decline. However, North America e-commerce revenues increased 13% for Q4.
Europe revenue increased 17.1% to $128.4 million and increased 8.3% on a constant dollar basis. The gains reflect foreign exchange, continued strength in boots, growth across women's footwear, and retail growth. Europe retail increased 23%, driven by foreign exchange benefits, strength in boots and casual footwear, as well as the addition of nine stores.

Asia revenue decreased 13.4% to $43.6 million and was down 17.6% on a constant dollar basis, driven by declines in boots, casual footwear, apparel, and lower retail sales. Declines in Japan and Hong Kong offset growth in Taiwan and China. Retail sales declined 10%, reflecting a 6% comp decline and the closure of eight stores since Q4 2008.

Among brands, SmartWool grew 12%, driven by increases in North America and Europe. Timberlands PRO business, which had been particularly impacted by the downturn, increased 3% due to additional marketing investments in the second half.

Global footwear revenue decreased 2.8% to $273.4 million as declines in boots in North America and Asia offset continued growth in the European boots business. Apparel and accessories revenue increased 2.9% to $106.8 million, due to solid growth at SmartWool.

By channel, worldwide consumer-direct revenue increased 3.7% to $138.2 million, driven by an improvement in apparel and casual footwear, partially offset by a decline in boots. Global comparable store sales were essentially flat for the quarter. Worldwide e-commerce sales were up 13%. Global wholesale revenue was down 3.0% to $249.5 million, primarily due to a decline in the kids boots business and Timberland apparel.

Gross margins soared to 50.6% from 44.5%, driven primarily by the impact of supply chain cost favorability, favorable product and channel mix and foreign exchange. Operating expenses grew to 41% of sales from 38.6% due largely to changes in foreign exchange rate changes.
On a conference call with analysts, company President and CEO Jeffrey Swartz said that the company benefited by from the downturn because consumers gravitate towards authentic, classic brands known for durability during times of uncertainty.

In line with that trend, we capitalized on a resurgent interest in our authentic, durable outdoor-tested Classic boots and boat shoes, best demonstrated by significant increases in revenue in Europe and in Asia for the full year, said Swartz. A marketing campaign in Europe and the creation of limited-edition collections with trendy companies such as Stuckey, Colette and Saks Fifth Avenue-under its Classics collection -also sparked demand.

Other highlights included its Earthkeepers recyclable shoe line, which more than doubled in revenues over the last year. Swartz also cited solid progress in its Outdoor Performance category, which equips trail runners, hikers or kayakers, and has benefited from new talent and marketing efforts.

Although he admitted that the Fall 2009 launch of Mountain Athletics trail running collection was not perfectly executed, Timberland saw positive results in key accounts in each region, including Dick's in the U.S., key distributors in Europe, and ABC-MART, a key account in Japan.

Having incorporated the critical execution lessons that we learned from the fall 2009 launch, we are already getting very positive feedback on the new product and the planned marketing tactics from key customers looking forward, commented Swartz.

Regionally, Swartz particularly highlighted the strength of the brand in Europe, which last year particularly benefited from an integrated women's re-launch in Italy. Beautiful product and targeted marketing, including a partnership with Aveda, the cosmetic folks, helped drive Italy retail comps for Timberland up 24% in 2009 and total women's revenue across Europe up versus last year, said Swartz. He also said the European boot business continues to benefit by being broader from a product perspective and less dependent on any one single silhouette unlike the U.S. market, which is highly reliant on the 10061, or Classic yellow boot.

Swartz said initial results from its new partnership with its apparel licensee, Phillips-Van Heusen, is very encouraging. In the U.S., Timberland apparel revenue in North America was up significantly in Q4, and Macy's is reporting great fall results for TBL men's apparel.
Timberlands new store in SoHo in New York City also is exceeding everyone's expectations.

At the same time, however, Swartz noted that the performances in the quarter of both North America, as well as Japan, remind us how much work there is to be done to get the brand back to a healthier trajectory.

He noted that Timberland continues to see the Classic boot business in the U.S. consolidate to a natural and sustainable level. Swartz indicated that focus groups show that consumers are positive to Timberlands history but are looking for for a more contemporary view of those same values from a fashion perspective from the company.
Collaborations with fashion houses, the creation of the limited-edition Abington collection and the contemporary New Market collection, as well as placement at Saks is designed to help make the 10061 boot more relevant to U.S. consumers. Saks is also carrying boat shoes and hand-sewn models to support sales of those categories in the region. But Swartz said it was too soon to predict when Timberlands Classic boot business will resume growth in the U.S.

Our focus is on an integrated merchandising strategy against the very important consumer and retailer on a global basis, but we will continue to report to our progress, promised Swartz.