Timberland saw yet another quarter of declining profits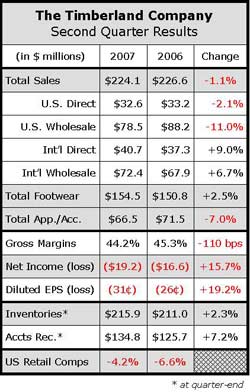 as sales slipped on continued weakness in the urban market and slow sales of TBL's iconic wheat boot due to Timberland's decision to constrict supply and create scarcity. The majority of the sales decline came from Timberland's domestic business as consumers are leaning towards vulcanized rubber and canvas in their footwear fashion choices.
The only bright spots for Timberland domestically were its outdoor performance brands in both footwear and apparel. However, the Authentic Youth market is beginning to show signs of a potential turn-around. TBL recently opened Fred Segal and Urban Outfitters as key customers. By channel, global wholesale revenues decreased 3% to $151 million. Global retail revenues increased 4% to $73 million as benefits from global door expansion offset a 6% decline in comps.
U.S. sales declined due to softness in sales of boots and kids products. Overall U.S. wholesale revenues were down, but the majority of the impact was from TBL's strategy aimed at creating scarcity and "maintaining the premium positioning" of the Timberland brand. Management also said that weakness in the U.S. apparel business impacted sales, but this was partially offset by double-digit growth in Timberland PRO and SmartWool, as well as the addition of IPATH.
Timberland's U.S. retail revenues were down due to "soft spring sales" results which drove a 4% decline in comp store sales. The company is testing new store formats in the U.S. including two new footwear-focused stores in Peabody, Mass. and Salem, N.H.
Taking corrective actions to adjust operating expense base is a top priority for TBL management. They are developing plans to reduce spending and to make strategic choices that offer near-term relief without compromising long-term growth plans. Part of this includes a "global head count freeze" to control personnel expenses.
Global apparel and accessory revenues were down due to declines in casual apparel offsetting strong growth in SmartWool apparel and benefits from the addition of Howies.
Timberland saw positive results in international markets. International revenues grew 8% to $113 million in the second-quarter with constant dollar gains of approximately 3%. European revenues grew 2% on a constant-dollar basis in the second quarter as double-digit gains in casual and outdoor performance footwear sales offset lower boots and apparel sales. EU results included strong growth in the U.K., which benefited from the addition of Howies, as well as gains in Benelux, Germany, Scandinavia and Italy. Asia sales increased approximately 8% on a constant-dollar basis from gains in Malaysia, Japan and Hong Kong. The Asia results reflect growth in footwear.
Management said that growth in the outdoor specialty channel continues to be a "key strategy" and Timberland's Outdoor Group continues to be strong. Both Mion and GoLite footwear are still in their start-up phases and SmartWool continues with double-digit profitable growth from its core business and its expanded apparel lines.
The Authentic Youth division continues to be "very, very challenging," but the company is beginning to see "real progress." The company continues to constrict supply in order to clean up the market for its boot business and it is now selling into 100 fewer retailers than it was at the beginning of Q3 last year. By this year's end, TBL management expects that the company will have lost roughly $200 million of "very profitable revenues" in the Authentic Youth category.
Timberland PRO, while the youngest of TBL's brands, was held up as the "most mature example" of the company's new consumer focused divisions. PRO has been able to grow its business and become a high return business within TBL's portfolio.
Looking ahead, company CEO Jeffery Swartz said, "I want to come out of this year with as much of this pain in the rear view mirror as we can achieve. And that means retail inventory is in shape; that means retail partners feeling as positively about our brand and our brand's performance as we can."
As such, TBL management is anticipating full year revenue to decline by low-single-digits compared to the prior year. Lower boots and kids' sales, higher levels of promotional activity, and increased product costs will place continued pressure on operating margins, which will fall 350 basis points. These impacts will be greater in the third quarter, with improved performance in the fourth quarter. For Q3, Timberland anticipates revenue declines in the mid to high-single-digit range compared to the prior year. For Q4, it is targeting flat revenues and operating margins.