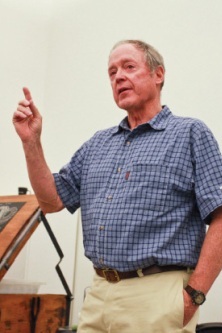 Thule bade farewell to Peter Pell, who retired May 7 after 30 years serving as an industry pioneer, brand ambassador, and most importantly, a genuine friend
After beginning his career in the outdoor industry with Sport Obermeyer back in 1968, Pell led a successful career with outdoor companies such as Beconta, SKI Magazine and HIFly Windsurfing. Eventually in 1985, Peter was approached by Ake Skeppner who came over from Sweden to launch the Thule brand in the United States.
As a relatively unknown category at the time in the US, Pell was intrigued by the challenge to help build it. And in November of 1985, car racks become his world. From that point forward, the Thule brand would be forever changed in North America.
Pell came on as the National Sales Manager for Thule's debut in the U.S. market. This new role took a great deal of hard work and long hours. A lot of what Pell has come to preach as the "Thule can-do" work ethic came from the fact that, at the time, the Thule team consisted of only 11 employees in the U.S. Back then "it's not my job" was not an option.
Pell described his daily routines during those early years as exhausting but rewarding.
"Several Thanksgiving festivities were missed," said Pell. "I would drive to Kennedy Airport in New York to unload the air cargo containers from Sweden in order to be able to restock Thule ski carriers in time for the busy holiday shopping season in New England".
With the company growing, it was time to expand. In 1992, Pell and a few of his colleagues came to Seymour, CT to prospect a new facility for the company's North American headquarters and assembly plant. From the initial walk through the empty hallways, Pell envisioned where the different departments would live and how they could work together. He knew right away that this was where the Thule brand would live in North America.
"The first thing I noticed were the three flagpoles directly out front," Pell recalled. "I knew one day we would be there to raise our flags in our new permanent home."
Over the years, Pell launched product categories, developed a sales force, and built the foundation for what Thule is today. With his history, knowledge and absolute passion for the brand and the industry, he became Thule's official Brand Ambassador in 2010.
Pell has watched a brand evolve from the launch of a ski carrier that would change the way Americans brought their gear to the mountain, to a portfolio of products that help consumers live an active lifestyle. That vision of the office that he imagined during his initial walk-through with 11 colleagues is now filled with hundreds of coworkers and is the headquarters for both No