Canadian climbing gym owner Jamie Fairchild introduced us to his do-everything, one-size-fits-all training tool.
Writer: Carly Terwilliger
Strength training has an interesting relationship with activities that don't necessarily require it. Any reasonably fit person can bag a modest peak, try their hand at mountain biking or scale a climbing wall. But once you get better at and more invested in these pursuits, strength is bound to rear its head as a limiting factor. And because the array of equipment required for traditional weight lifting can be daunting, a space has opened up in the training world for one-stop tools – think TRX suspension straps.
The newest arrival on the scene is The Yoak, the brainchild of Canadian Jamie Fairchild (pictured below), a climbing gym co-owner who came up with the design while recovering from shoulder surgery. It's an elegantly curved bar that, at less than 10 pounds, can go with you from the gym to your house or – let's be honest, we're talking about climbers here – your sweet van.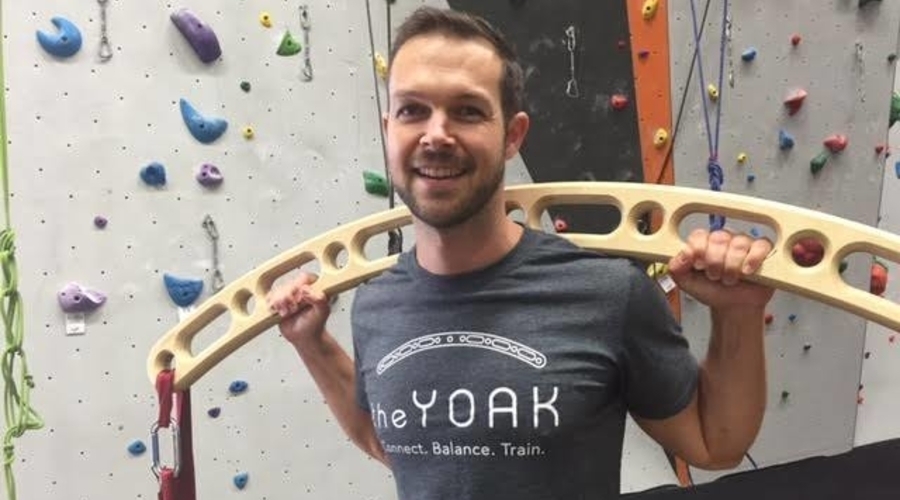 It can function as a barbell replacement for pressing or curling, and can even be switched in for kettlebell exerciser. Or you can hang it up and do chin-ups. The flagship model is available through the company's website in Natural Birch and Walnut finishes which, in combination with aluminum, offer functionality in an aesthetically appealing package. Though designed with climbers in mind, its simplicity and versatility may also be a good fit for more intense workout temples such as CrossFit garages.
We caught up with Fairchild to find out more about his creation, and why climbers should consider giving their hangboard a fancy new friend.
What's the advantage of a do-everything, one-size-fits-all training tool? Convenience, cost effectiveness and versatility. By combining the option to do suspension, barbell, and parallette functionality, the Yoak is literally the only device out there that enables full-spectrum training. The fact that it's less than 48 inches long and only 5.5 pounds makes it portable. We've seen people doing tons of backyard, condo, road trip workouts with it using whatever they have available. It can be hung almost anywhere (rigs, trees, beams), and loaded with almost anything (buckets, plates, kettlebells, water bladders). While our flagship model sells for a respectable price, it replaces thousands of dollars of equipment like a squat rack, barbell and weights, TRX and gymnastics rings.
Tell us about your sourcing and manufacturing process. What are your sustainability and CSR policies? We're huge "dust to dust" folks at the Yoak. Full-spectrum considerations and efficiency where possible and reasonable. These tenets complement the device's methodology which is about sustainability in movement and recruiting stabilizer muscles to leverage our evolutionary biomechanics rather than "muscling through" a movement and risking injury. Our designer Mark Simmons has a degree in both Industrial Design and a Master's in Sustainable Design and brings the "local" and "environmental" perspective to the table. How this translates to our product is as follows.
We source everything nearby where possible. This product was designed and is manufactured in Northern Ontario, Sudbury to be specific, a world-famous mining town with tons of technical expertise. We've collaborated with a local multi-generational family owned and operated manufacturer to ensure we pay fair wages to our tradespeople and can literally drive down the road to pick up and quality check our product. Our boxes come from a small town called New Liskeard, we print our posters and branded material (including t-shirts!) in town,and we support local educational and research institutions for our R&D programs.
The only frustration we've had is finding North American made, high quality plywood to make the Yoak. There is none. It seems the only place to get baltic birch (with no formaldehyde in the glue and voids in the laminate) is from overseas. We'd looked at local sources of hardwood, but they were cost prohibitive and inconsistent in quality. Our aluminum core is made from standard aircraft grade which is shipped from Toronto. In a nutshell, we've tried to create a product and brand that speaks to quality, sustainability and equity as best we could. We are constantly looking to improve where possible.
What are climbers doing to train today that they weren't doing, say, ten years ago? The transition to a more athletic climbing style and its introduction to the mainstream via indoor urban facilities means you have a broader demographic climbing than was seen a decade ago.
This also means you have people who have trained in other refined disciplines – gymnastics, martial arts, parkour – having a go at going vertical. You also have weekend warriors who may have never considered an outdoor climb spending a couple of days a week at the local climbing gym.
So there's a huge integration of people, movement styles, and perspectives happening and it's pushing the limits of climbing. The competitive climbers are looking for new ways to gain an advantage, and the recreational climbers are looking to fulfill other training interests. This confluence translates to a transferability of skill sets and boundary pushing. And that means you see climbing facilities that offer workout/training areas, and training facilities that provide grip strength and mini-climbing walls.
A quick review of the leading climbing trainers and methodologies shows how mobility, flexibility and strength training are now fundamental considerations for evolving the discipline in a safe and data-driven manner. Via the Yoak, we're hoping to contribute the concept of stability to the training discussion. In fact we're attending the Canadian Climbing Medical Symposium in Toronto, Canada in August to share our perspectives and learnings from ongoing research with some of the world's leading kinesiology and biomechanics academics.
How can a Yoak help beginners just getting into climbing reach their goals? By helping people to build a sustainable, balanced base for their basic push, pull and core movements. By providing basic mechanical feedback on strength symmetry and core stability, the Yoak is revelatory if you've never used it. Whether it's a pull-up or a band-assisted pulldown, or a push-up/plank that demonstrates how dominant one's right or left side is, people can build sustainable movement patterns that leverage evolutionary biomechanics rather than blind effort.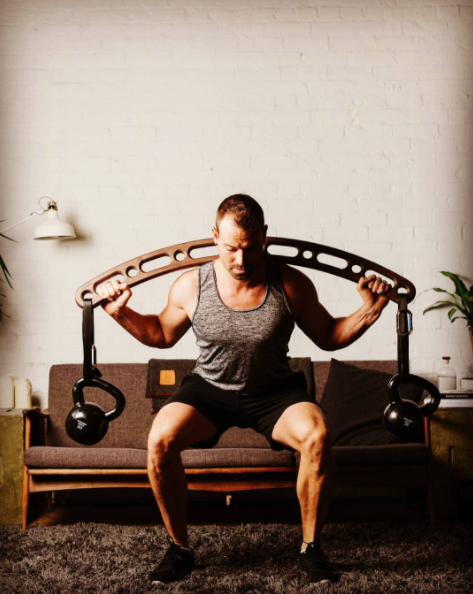 Because it trains stabilizers over prime movers, people don't add bulk by training with the Yoak. They train control, balance and refined movement that will translate to continuity in their climbing by reducing the risk of injury. We want to help people appreciate and work on their weak links. You're only as strong as them, after all.
Photos courtesy The Yoak