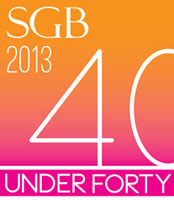 The SportsOneSource Group has announced the honorees for the sixth annual SGB 40 Under 40 Awards. This years class again contains individuals from all corners of the sporting good industry who are recognized as leaders making a difference in their businesses and the market. The forty recipients were selected by a panel of SportsOneSource analysts, editors and industry executives from more than 400 nominations received from around the sporting goods industry.
"These awards are a way to recognize the great work done by younger leaders in our industry," said James Hartford, president, CEO of The SportsOneSource Group, which publishes the SGB trade publication. "The extraordinary and diverse talent nominated again this year made it difficult to narrow the list to just forty people. We drew very strong support from prior honorees and other industry leaders to select a prestigious group of individuals and it is our pleasure to honor the next generation of leaders."
For more information on sponsorship opportunities, advertising and event invitations, contact SportsOneSource at 303.997.7302 or e-mail at under40@SportsOneSource.com.
The 2013 Honorees:
Aimee Arana, Category Sales Director – Action Sports, Nike Inc
Tim Bantle, Director of Apparel, Black Diamond Equipment
Simon Bonham, CEO, Hi-Tec Sports USA
Jackie Brown, Active Lifestyle Category Business Director, Merrell
TJ Ciaravino, VP Sales and Marketing, Worldwide Sport Supply
Kris Dahlgren, President, Dahlgren Footwear Company
Scott Daley, Head Of Classics, Reebok International
Matt DiLorenzo, CEO, TYR Sport Inc.
Mike Etienne, Merchandise Manager, Turners Outdoorsman
Louise Formby, President, Tiedman & Formby Vintage Athletic Co.
Antonio Gray, Apparel Buyer, DTLR
Greg Greenberg, President/GMM, ESCO Ltd., Shoe City
Damien Huang, SVP Design and Merchandising, Eddie Bauer
Salym Hunter, VP Footwear Development, DC Shoes
Mark Ish, SVP Sales & Marketing, Trigger Point Performance
Vanessa Walton Keefe, VP Marketing, Charles River Apparel
Paul Labarbera, Teva Design Director, Deckers Outdoors
Jules Lambert, President, Probar, LLC
Janica Lane, Partner, Partnership Capital Growth
Bridgit Lombard, EVP, Penguin Brands, Inc. / Nathan
Marc Misiewicz, Senior Key Account Manager, Brooks Sports
David Mosse, Chief Strategy Officer and General Counsel, Dick's Sporting Goods
Charles Murray, Footwear Buyer, Hibbett Sports
Daniel Near, Director of Consumer Products Licensing, National Hockey League
Marisa Nicholson, Sales Manager, Nielsen/Outdoor Retailer
Kyle Orme, DMM Sporting Goods, Meijer, Inc.
Brian Phillips, VP Business Development, Big Rock Sports, LLC
Carey Platto, Director Outdoor Footwear, The North Face
Joey Pointer, CFO, Fleet Feet Sports, LLC
Ian Pund, Field Sales, W.L. Gore & Associates
Dani Reiss, President & CEO, Canada Goose, Inc.
Doug Smiley, Business Unit Manager – Running Footwear, Mizuno
Laura St. George, VP Sales, Gared
Joe Suboticki, Kids Footwear Buyer, Champs Sports
I Ling Thompson, VP Marketing and Communications, Outdoor Industry Association
Colin True, Account Manager, Polartec
Eric Tung, President, Fera International Corp.
Melissa Valentine, Manager Business Development, Franklin Retail Solutions
Katie Wagner, Wholesale Channel Director – Americas, Crocs Footwear
Zeev Feig, CEO & Founder, Zensah
The 2013 honorees will be featured in the May issue of SGB magazine.