The Forzani Group Ltd. reported that overall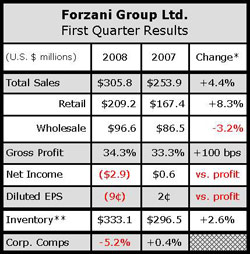 same-store sales slipped 2.1% for the first quarter, which led to a net loss for the period ended May 4. The Canadian retailer attributed the decline to low stocks of ski, snowboard and related gear after a blockbuster fourth quarter. Executives said 96% of the company's sales decline was attributable to winter sports equipment categories and winter clothing because inventories got so thin.
"The company's first quarter of fiscal 2009 was a reflection of the old adage 'too much of a good thing' where the continuation of the exceptional winter weather that drove Q4 2008 sales and reduced winter inventories to record lows, hampered the company's ability to generate positive sales momentum through the first 8 weeks of the quarter in either the corporate or franchise division," said CEO Bob Sartor.
"Our Q1 was really two different stories. For the first half of the quarter…, we had negative comps in our corporate stores of 6.6%. Back half of the quarter comps were in fact up 4% in those same corporate stores with strong margins, but the damage was done in February and March as winter remained longer than usual across Canada."

Sartor added he does not foresee a prolonged economic downturn, noting that the moment weather warmed in Canada, sales spiked.

Retail system sales, which include both FGL's corporate and franchise stores, rose 8.3% to CN$334.0 million ($327 mm), due primarily to new store openings and the addition of CN$24.7 million ($24.6mm) in sales from Athletes World, which has been restructuring under Canadian bankruptcy law since FGL acquired it in November.
The higher sales offset a 5.2% decline in same-store sales at corporate-owned stores attributed in part to a fall off in Crocs and Heelys sales. Franchise stores, meanwhile, boasted a 3.1% gain in same-store sales – something COO Tom Quinn attributed to better merchandising of sports, leisure and fashion apparel. In the same quarter a year ago, FGL reported same-store sales growth of 0.4% and 9.6%, respectively, for corporate and franchise stores. At the end of the quarter, FGL had 341 corporate stores and 227 franchise locations.

Forzani said the weather combined with timing of a new statutory holiday in its biggest market (Ontario) and disappointing results at Athletes World to undermine sales at corporate stores, where category results were mixed. Comps were negative in winter categories, particularly ski, snowboard, hockey, outerwear and accessories, as well as in casual clothing, sandals, hiking and golf shoes.
Comps were positive for total footwear, however, thanks to strong performances by running, skate, soccer and sport-specific shoes. Also up from the year-ago quarter were team sports, bikes, racquets, fitness, camping, travel and action sport categories. In ski wear, outerwear and winter accessories grew at double-digit rates due to the prolonged weather, while athletic, casual and licensed clothing all comped positive.

FGL's wholesale revenues fell 3.2% to CN$97.2 million ($96.6mm) due to timing of receipts in the inventory in the franchise division. Total FGL revenues, which also include service income, equipment rentals, franchise fees and franchise royalties, rose 4.4% to CN$307.5 million ($305.8 mm) for the quarter.

Overall store operating expenses rose 390 basis points to 33.5% of store revenues because of CN$9.6 million ($9.6 mm) in costs associated with closing 67 Athletes World stores, CN$1.3 million ($1.3 mm) in costs from the September 2008 acquisition of former Nevada Bob's franchise locations, and new store openings.

"When you close 67 stores in the span of a quarter, it ain't pretty," quipped Sartor.

Those costs offset CN$600,000 ($596,700) in savings from the elimination of overhead from nine Fitness Source stores franchised in April 2007.

Restructuring costs at Athletes World also hurt profits, but Forzani said it expects to exit the bankruptcy process by the end of June with the strongest stores at good lease rates.

FGL said that because the first quarter represents less than 22% of its annual revenues and 2% of its annual earnings, it still expects to meet plan for the year. However, Forzani's same-store sales from corporate and franchise stores were off 8.2% and 7.1%, respectively, for the first four weeks of the second quarter as cold, wet weather continued to hurt sales of summer tops, shorts and sandals.

FGL is also having success with shop-in-shops by setting up sections featuring TNF, Nike and other brands. The company will roll out the concept to its Sport Chek and Sports Experts stores over the next 18 months. Finally, FGL is putting Nevada Bob's golf shops within selected Sport Chek sites and is testing a 25,000-s.f. Fitness Source store with a nutrition center, home studio options, institutional sales and education center.