The Finish Line, Inc. saw sales climb 9.0% to $282.4 million in its first quarter ended May 29 on a 10.9% comp gain driven by the running and toning categories, increased Internet sales and improved store metrics. Income from continuing operations shot up to $13.7 million, or 25 cents per share, from $1.8 million, or 3 cents per share, in the year-ago period.


Store conversion rates improved 1% and average dollars per transaction increased 9%. Traffic declined slightly. By month, comps grew 18.5% in March, 6.1% in April and 5.2% in May.

Footwear comps rose 12% – rising 19.8% in March, 7% in April and 6.2% in May. The drivers were toning as well as running across genders. Comps to date in June were up 7%, reportedly ahead of the internal plan.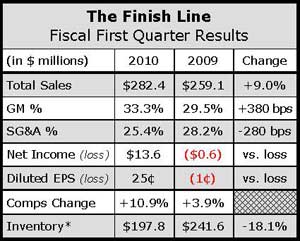 "Running has always been a strength for us and as we went into Q4 we were bullish on the assortments that we invested in and our results coming out of Q4 would suggest we made some good decisions and we anticipate that will continue," said Sam Sato, FINL's chief merchandising officer, in an exclusive interview with Sports Executive Weekly.

Footwear average selling prices increased 7%, aided by strong sell-through at full retail price on new lightweight running products, as well as toning. The gains came despite an inventory reduction of 13% per square foot for the quarter.

"Models from Nike's diverse range of platforms such as Air Max, Shox and lightweight running, including Lunar and Free, drove sales in the quarter," said company President Steve Schneideron a conference call with analysts. "Puma running styles also performed well and remained popular with our core customer." Reebok's ZigTech, launched in mid March, also reportedly "performed extremely well."

Finish Line's test of The Running Lab in-store concept with Nike, which features a customization station, will be expanded to additional stores throughout the year. So far, Finish Line has two four-wall enclosures, two wall-to-wall men's and women's sections with apparel fixtures, as well as three shoe-panel callouts.

"They're showing us there's a number of things we can do, like customization, that doesn't now live within the mall. So the early results are really positive," Sato told SEW.

Demand for toning products "remain high" with men's toning generating a "steady performance."

Sato said innovation in design and technology will be critical to sustaining the toning business, and he noted that new products from Skechers at $115 have been checking out well. Design aesthetics are also evolving and "early reads there are pretty good." While Skechers and Reebok continue to be the main players, new brands "are coming out fast and furious" and will be looked on to drive excitement and create differentiation, said Sato. In particular, Nike's exploration of the opportunity through its Free platform should provide another lift.
"Nike is going to do it their way and we have every confidence in the world that it's going to be great and the consumers are going to receive it extremely well," said Sato.

Basketball comps declined low-double digits with increasing margin pressure. Men's Jordan "lost momentum," but management is encouraged by the launch of ZigTech and Under Armour basketball shoes and newer Jordan models later this year.

Athletic casual was down double digits as Finish Line continues to shift its product assortment to its every day sports strategy that focuses on products "designed for performance but worn primarily for fashion and comfort," said Schneider. In men's, vulcanized footwear including Polo, Nike, PF Flyers and Adidas performed well as well as retro models from Nike and New Balance. Women's "remains more challenging" as vulcanized footwear such as Nike Sweet Classic and Court Tradition as well as Converse did well but were under margin pressure.

In kids' footwear, comps grew 7.5%, led by Nike running, Puma, Reebok, Kids Jordan and Skechers Twinkle Toes.

Softgoods comps increased 3.4% as "continued solid performance" in socks, shoe care and watches in its accessories offset apparel declines due to slower sales of basketball shorts and T-shirts. Key brands such as Nike and The North Face were positive.

The Internet business was up 35%, marked by a double-digit traffic increase and higher e-commerce product margins.

A 380 basis point improvement in gross margin was said to reflect a 180 basis point increase in product margin due to selling more full-priced product and effective management of inventory levels to increase turns. Occupancy margin improved 200 basis points due primarily to sales gain along with having 17 fewer stores than last year and by improving lease terms. SG&A expenses decreased by 280 basis points due to sales gains and expense controls.