At The Finish Line, sales of toning shoes fell more than 45% in the fiscal fourth quarter with heavy discounts on those items also dragging down merchandise margins. But the athletic footwear chain found enough strength in lightweight running, basketball and its e-commerce business to make up for the shortfall. More encouragingly, comps in the current quarter-to-date – from Feb. 27 through March 20 – were up 10.1% on top of a 15.4% increase for the comp period a year ago.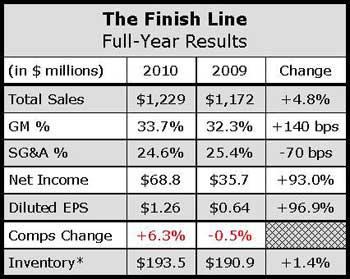 The quarter capped off a rebound year marked by a more than 50% hike in earnings with product margins, inventory aging, and shrink all at the best levels in the company's history.

On a conference call with analysts, Glenn Lyon, chairman and CEO, said the opportunity continues to lie in improving sales per square foot from $317 last year closer to its historic high of $352.

"That means there is plenty of runway to grow our existing business by driving the top-line in our stores as well as dramatically increasing e-commerce sales," said Lyon.

Sales in the quarter ended Feb. 26 increased 2.7% to $384.6 million. Comps climbed 4.0% on top of a 10.0% increase for the same period a year ago. Excluding special items, earnings from continuing operations inched ahead 5.1% to $35.0 million or 65 cents per share, and were in line with Wall Street expectations.

Reported net income was $34.3 million, or 63 cents a share, up from $30.8 million, or 56 cents, in the year-ago period. The latest results included a $1.2 million pre-tax charge related to store asset impairments. Prior-year results included $2.6 million of pre-tax income associated with a change in the estimate for gift card forfeitures as well as a $6.8 million pre-tax charge related to store asset impairments.
The comp increase was driven by a 2.1% increase in conversion and a 2.4% gain in average dollars per transaction that offset a 3.1% decline in traffic. E-commerce sales increased 37%. By month, comps grew 4% in December, slid 2.7% in January, and then rebounded for a 8.6% gain in February.

On the call, company President and COO Steve Schneider said the February comps were particularly encouraging as sales and traffic strengthened in the second half of the month and that continued into March. Said Schneider, "It's been that traffic change that's really helped drive our numbers."

Footwear comps were up 3.7% for the quarter – up 4% in December, down 3.7% in January and ahead 8.1% in February. Softgoods comps increased 5.8% for the quarter.

In footwear, average selling prices grew 1.7% due to strong product sell-through at full price and improved inventory aging. Over 90% of its footwear inventory is less than six months old, said Schneider. Nike Vis Air products, led by the introduction of Air Max 11, paced a high-teens comp gain in running category sales in the quarter. Nike Free also continued to sell well while the Reebok Zig Sonic launch was "extremely successful," added Schneider.

Air Max 11 also saw an "exceptional performance" in women's running, as well as Nike Free and other lightweight product. Said Schneider, "Still we have room to grow in women's running and are working on improving our results in partnership with all of our key vendors."

Schneider also Finish Line is "thrilled with the results" of the 305 Nike Track Clubs in its store and will continue to roll out the concept.
Overall, Schneider said Finish Line has broadened its technical running assortments with "impressive results" from Brooks, Mizuno and Asics. Management expects the positive running trends to continue throughout the year.

Basketball saw double-digit gains, following up on its third quarter when the category delivered its first positive comp of the year. Brand Jordan had a "great quarter" on the strength of retro releases and the Nike Hyperfuse launch was "outstanding," said Schneider. FINL also saw "great results" from Reebok and was encouraged by Under Armour's introduction to the category. Said Schneider, "We are very optimistic about the escalation of basketball."

Toning represented less than 2% of sales in Q4 and the chain ended the year with "much cleaner inventory." As expected, the category is evolving from toning to training, witnessed by strong sales of Nike Free training. "We expect that by Q2 of this fiscal year the negative effect of toning comparisons will diminish and training will go on to represent a small but important part of the business," said Schneider.

Athletic casual was down but only slightly to its plan since inventory commitments had been reduced. Positive momentum was seen from Adidas Originals and Court styles from Nike. Canvas styles from Polo, Lotto and Levi's were also strong, as were boots from Polo, Nike and Timberland.

Kids' footwear was up mid-single-digits, led by running as well as Spiderman in character sales. In basketball kids, Brand Jordan and Reebok Zig performed well.

In Softgoods, the 6% comp gain was driven by a 20% accessories hike, led by sunglasses and watches. Socks were also strong. Power Balance bands, which Finish Line owns a mall exclusive, were also "a hit." Apparel was flat although strong sales were seen from Brand Jordan, North Face and Under Armour. Said Schneider, "We anticipate that apparel will be somewhat challenged in Q1 but expect the new products such as Under Armour's Charged Cotton tees as well as Nike and Brand Jordan to be solid performers."

Regarding e-commerce, Schneider said traffic and conversion continues to increase and gross margin continues to improve. The percentage of traffic to its website for mobile is now in the mid-teens.

Gross margins in the quarter increased 10 basis points to 36.0% of sales. Product margin was down 50 basis points due to toning weakness, while occupancy was leveraged by 60 basis points. SG&A expenses increased 40 basis points to 21.7% of sales and were up 5% in absolute dollars for Q4. That partly reflects nonrecurring expense of approximately $1.7 million related to the exploration of growth outside of its existing business.

Lyon said The Finish Line had further defined its capital allocation strategy for deploying its nearly $300 million in available cash. Up to half is expected to be invested outside of its core business through format extensions and/or geographic expansion. A quarter will be available for "more aggressive opportunistic" share repurchases, and the remaining will be retained to preserve its financial strength and flexibility.

On a per-square-foot basis, inventories were up 2.1%.
FINL expects to open five to 10 new stores this year and close 10 to 15.

For 2011, Finish line expects to see a low-single-digit percentage improvement in both store conversion and average dollars per transaction. Traffic is expected to decline low-single-digits. Product margin is expected to be up modestly although the fiscal first quarter will be challenged due to toning comparisons.
SG&A is expected to be up in the low- to mid-single-dig
it percentage range due to the continued rollout of Nike Track Club, other remodeling efforts and the continued development of a new store prototype. Investments will also be made to support e-commerce, the Winner's Circle loyalty program, and IT systems.

Asked about inflationary pressures, Sam Sato, president and chief merchandising officer, said the immediate price increases has been largely around apparel but any pricing increase has been minimal through holiday.

"Having said that, we're talking with our brands, we're working with them to help get the better insight as we move into Spring '12 on what these price increases might look like, and we'll make the appropriate plans based on that," said Sato. "The good news is, from my point of view, if technology and design innovation continue at the pace and quality that they have the last 18 months, there's an actual potential benefit for us with some of these price increases. I think as long as the consumer sees value in what's being delivered to them we could actually get some value out of the retail increases."

Lyon also said that despite the recent pickup in traffic, the generally challenging climate has led the company to continue to prepare for traffic declines for the year.
"I don't think any of us should be in a position of believing that the macro impact of gas prices and food prices and 20% vacancies in the state of Florida don't have some effect on our business," said Lyon. "So we're very optimistic, but we have to continue to manage our business in somewhat of a conservative way."