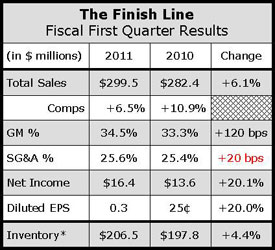 The Finish Line, Inc.'s sales increased 6.0 percent to $299.5 million in its fiscal first quarter ended May 28, while earnings from continuing operations climbed 19.7 percent to $16.4 million, or 30 cents per share. Led by double-digit gains in running and basketball footwear, as well ongoing strength in e-commerce, comps increased 6.5 percent in the period on top of an increase of 10.9 percent for the same period a year ago.
Store conversion was up 0.2 percent, average dollars per transaction increased 2.1 percent, and store traffic increased 1.5 percent for the quarter. By month, the comp increases amounted to 4.7 percent in March, 10.1 percent in April, and 5.5 percent in May.

FINL also said comps during the current month through June 19 were running ahead 14.5 percent on top of a 6.8 percent increase for the same period a year ago.

On a conference call with analysts, company Chairman and CEO Glenn Lyon said the first quarter marked the seventh consecutive quarter of increased comps and EPS. He placed much of the credit on the company's suppliers. "Vendor partners, such as Nike, brand Jordan, Reebok, and others, have continued to anticipate the consumer, deliver fashion with technology, and aggressively market their products in creative ways like never before," said Lyon.

On the call, company President and COO Steve Schneider said footwear comps were up 7 percent, driven by strong performance in both basketball and running. ASPs were flat, due primarily to the negative impact of toning in the women's business.
Running comps increased in the mid-teens with strength across men's and women's. For men, Nike running performed well with strong demand in Max and Free. Said Schneider, "We continue to see Big Air and lightweight running as two trends that will drive our men's running business well into the future."

Reebok Zig also continued to do well and Flex, introduced in late April, "is clearly a home run," said Schneider. Other lightweight running styles seeing strong sell-through included Asics, Adidas, Under Armour, and Fila's Skele-Toes line. In technical running, Mizuno, Asics, Brooks, and others are being expanded.

In women's running, comps increased based on strength in Flex, as well as Nike Air Max 2011 and Free. Technical running also performed well in women's.

Schneider described the performance of Nike Track Club – now in over 400 Finish Line stores, or about two-thirds of the chain-as "outstanding." The in-store shops will be in all stores by the holiday-selling period.

Going forward, continued strength is expected in the running category through the BTS season with the momentum seen in Nike Free and Max, as well as Reebok Zig and Flex.

Basketball, building on renewed momentum seen in the fourth quarter, delivered strong double-digit comps in the quarter. Said Schneider, "All segments of Brand Jordan performed exceedingly well, especially retro, but also game and performance models. Brand Jordan drove fantastic sales in basketball and in other footwear categories as well." Finish Line also saw strong results from Adidas Crazy 8s.

FINL expects basketball to remain a strong category in the current quarter with the Jordan Retro business continuing to gain momentum and strong early reads on the new Crazy Light shoe from Adidas.

Athletic casual was down, but on plan. In women's, key programs from Nike, New Balance, and Adidas Originals performed well. In mens, the white-white Air Force 1 and classics like Adidas Superstars saw strong sales. Athletic casual is expected to pick up in the current quarter as warm weather drives sandals sales.
Kids footwear was up strong double-digits for the quarter, driven by running. Leading the gains were Reebok Zig as well as Nike Free, Lunar and Max 11. The first launch of Free and Max in kid's reportedly exceeded expectations.

In softgoods, comps were up low-single-digits. Apparel sales were down for the quarter (as planned) due to a continued shift away from commodity product. Q1 bright spots included Nike and Brand Jordan apparel. Graphic tees and shorts were solid performers and that's expected to continue into Q2. Finish Line is working with Under Armour to bring graphics to Charged Cotton tees.

Accessory comps were up over 13 percent, driven by an "exceptional performance" in branded accessories including Power Balance bands as well as sunglasses, watches, and socks, especially the Nike Elite basketball sock.

E-commerce sales increased 55 percent for the quarter over last year, on top of a 35 percent increase in fiscal Q1 last year. Online sales contributed to slightly more than half of the overall comp increase for the quarter.

Finish Line e-commerce sales and traffic were up over 50 percent for the quarter. Conversion continued to increase and gross margin improved.

Mobile commerce is growing with the percentage of traffic to its website from mobile climbing to the mid-teens. A Finish Line app for Android and Apple smartphones that features geolocation technology and offers inventory transparency by store was recently introduced.

Gross margins improved 120 basis points with product margin up 20 basis points and occupancy leveraged by 100 basis points. Product margin was better than expected as increased sell-throughs at full retail prices offset lower margins, as expected, by the toning category. Toning products sales represented about 1 percent of total sales in Q1 this year compared to 4.5 percent a year ago.

SG&A expenses grew 6.8 percent in absolute dollars for the quarter due to strategic investments in marketing initiatives to drive traffic to it website and stores. Store payroll dollars were flat with productivity improving due to the benefit from a labor scheduling tool that was implemented last year. A commissioned store labor model will start rolling out in Q2. On a per-square-foot basis, inventories were up 5.8 percent, as planned.