With a strong acceptance of newer models, Crocs, Inc.'s posted double-digit earnings growth in the third quarter earnings on a strong double-digit sales gain. As of Oct. 31, the cushy-shoe maker's backlog was running ahead 60% versus the comp date last year.


Excluding impaired product sales of $11.5 million in the year-ago quarter, revenues grew 30% in the latest period. Taking out a one-time tax benefit of $3.0 million, or 3 cents a share, in the latest period and other non-recurring charges in both periods, net income reached $22.1 million, or 25 cents a share, compared with earnings of $1.8 million, or 2 cents, in the year-ago period.

On a conference call with analysts, President and CEO John McCarvel said results are well above plan. "While 2010 was about returning the company to profitable growth, we did not plan to achieve these levels of sales and earnings at this point in the company's development," said McCarvel.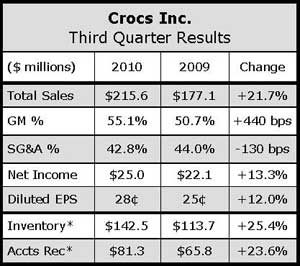 Results have particularly benefited from efforts to diversify offerings, which included the launch of the brand's first sneaker collection. Including the popular Croc Band collection, Classic and Core represented 10% and 18% of Q3 sales, respectively, while 31% came from new 2010 products. Reflecting higher ASPs from new products, the average selling price for the quarter increased to $18.23 from $17.59 a year ago.

By channel, wholesale sales increased 15.7% to $123.9 million, retail sales jumped 34.5% to $72.5 million; and Internet sales advanced 19.3% to $19.2 million. Retail's growth was aided by a 14% increase in global retailer locations coupled with a 9% comp gain in the U.S. CROX ended the quarter with 354 company-operated retail locations versus 310 a year ago. Initial plans for 2011 include roughly 25% location growth with the majority outside the U.S.

By region, sales grew 31.7% to $104 million in the Americas, 16.2% to $79 million in Asia, and 9.2% to $32.6 million in Europe.

McCarvel said that in the U.S., wholesale accounts reported "very good weekly sell-through performances of our Spring-Summer collections throughout June and August and this trend was repeated with our new back-to-school line later in the quarter." After a small test last year, Crocs doubled the number of SKUs for BTS this year.

America's wholesale backlog for Spring 2011 has more than doubled. Growth is coming across the board from sporting goods to better department stores and family footwear although independents still make up approximately 40% of the U.S. wholesale business.

Sales climbed 40% in Canada and 120% in Central and South America. Asia's growth is being fueled by continued wholesale expansion in Japan, Korea, and China. Europe is likewise feeding on a resurgence started in the summer and benefiting from Crocs assuming control of distribution in the U.K., France and Germany.

Gross margins improved 440 basis points to 55.1% of sales in the quarter due to the consolidation of its warehouse footprint, supply chain efficiencies, and a greater contribution from its consumer-direct division. SG&A decreased to 42.4% of sales from 45.7% of sales in Q3 2009 as the sales leverage offset increased marketing and store-opening costs.

For the fourth quarter, Crocs expects sales to climb 21% to $165 million and EPS of 2 cents a share, which compares with a loss per share of 13 cents in the fourth quarter 2009.