With a lack of consistent 'mega winters' and consumers who yearn for variety over mastery, skiing gear gets versatile.
By Erin English
Today's skiers are multi-faceted. They no longer fall neatly into the category of backcountry or alpine. That's created a swelling audience of winter enthusiasts who desire a "quiver of one" — a ski setup that can perform well both on-piste and off-piste, and hardgoods manufacturers that are increasingly focused on improving the versatility of their products.
"The 'quiver-of-one' customer is really popular and strong," said Ross Herr, sales manager for Dynafit. "That category is where 90 percent of the market is focused right now."
Backcountry skiing comes with the same risks it always has. But more people are taking the time to get schooled about those risks, and are getting involved with the sport. Why? Backcountry skiing is sexy; it's freedom; it's fun. Having a backcountry-compatible setup is a season-extender; after skiers carve out their last, slushy turns on a resort's end-of-season "mashed potatoes," there's still gravy to be had in the nearby woods.
"People are still looking for adventure in skiing, and adventure is taking on a lot of different forms," said Kim Miller, CEO of Scarpa North America. "A lot of people are trying backcountry skiing, cat skiing and hut trips. We're seeing those activities going mainstream."
Also catching the attention of ski companies is a consumer interest in skiing for fitness, evidenced in part by the U.S. Ski Mountaineering Association's growing list of ski resorts with official uphill/downhill policies. In 2017/18, Dynafit will debut Speedfit, a product line exclusively targeted at the uphill/downhill skier.
"There is a huge group of people who are ski touring on resorts and advocating for uphill policies," Herr said. "These customers, have families or they're super-busy. They drop their kids off for ski school and take a lap up for exercise, or they go skin up the mountain after work."
Most consumers, it seems, are benefiting from the blurring of lines between on-piste and off-piste gear. Once-delicate tech bindings are becoming so robust that backcountry and alpine skiers can place more faith in them. Conversely, boots are getting lighter and stronger, while skis are snappier and more responsive in varied conditions.
Even a die-hard skier of either of the two disciplines can appreciate the evolution happening in product design.
Boots Made For Walkin'
Novice or expert, awkwardly clomping from parking lot to lift in stiff boots has mostly been an inescapable part of an alpine skier's day. But that reality is shifting.
"More people are coming out with ski-walk mechanisms," said Pete Wagner, owner of Wagner Custom Skis. "The idea of comfort has trickled down into the alpine world."
I think the only boots that you won't see with walkable soles in a few years will be race boots," predicted Geoffrey Curtis, vice president of marketing for Marker Dalbello Völkl USA.
The key challenge for brands is matching comfort with performance. Many early adopters of walkable boots found that in prioritizing off-snow comfort, they also signed up for a less-than-stellar on-snow experience.
"Traditionally, walk mode has affected the performance of the boot, in terms of [proper] stiffness," said Joe Johnson, marketing manager for Salomon. "Companies are finding ways to get around that problem with a combination of materials and technology."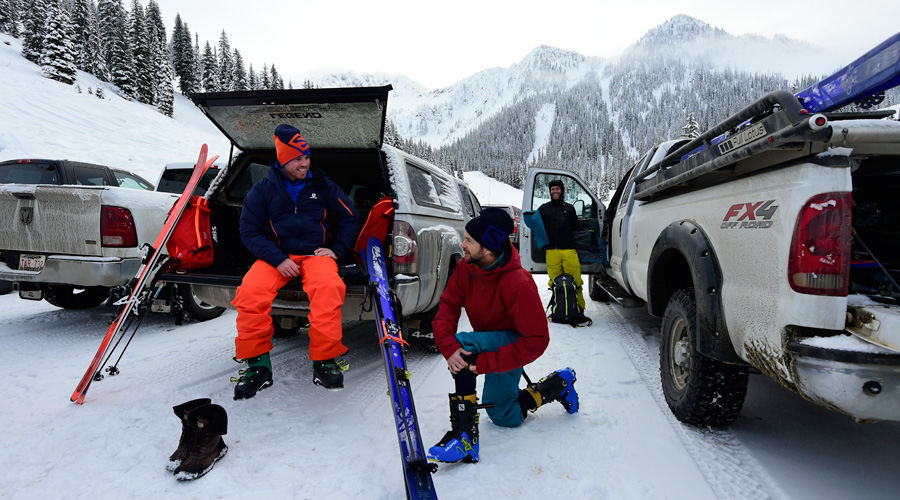 Part of Salomon's solution, Sensifit Shell Technology, "puts thicker plastic where you need it — for power transmission — and thinner plastic where you don't," according to Johnson. The company has also found success in tweaking the pivot for its walk-mode boots. The pivot is oversized and kept high for good range of motion, without compromising performance.
Meanwhile, Dalbello and Marker introduced a boot sole technology called GripWalk in 2016/17 that will have a wider reach in the consumer market in fall 2017. The curved rubber GripWalk sole draws inspiration from a touring sole. Numerous boot manufacturers — including Tecnica, K2 and, of course, Dalbello — are incorporating the sole into their products.
While these new sole constructions show tremendous promise, and work with many types of bindings, consumers will be required to pose the right questions to their ski tech to determine compatibility.
Rethinking The Carbon Fiber Ski
Lightweight carbon fiber has reigned supreme as a ski material in recent years, but manufacturers have learned that going too light can be detrimental. Carbon fiber all by itself is a stiff and brittle material that gets "chattery" on snow. In choppy snow, skis with mass ultimately provide more power and offer better stability.
"It's a happy balance that you want to find," Wagner of Wagner Custom Skis said.
To maximize carbon fiber's potential and negate its downside, manufacturers have gotten creative with other materials they incorporate into their skis. A combination of Paulownia wood and carbon fiber has proved popular with numerous manufacturers, while G3 is finding success with polyurethane (PU) to reduce ski chatter. For 2016/17, the company debuted a ski combining PU with carbon fiber that has been met with positive reviews.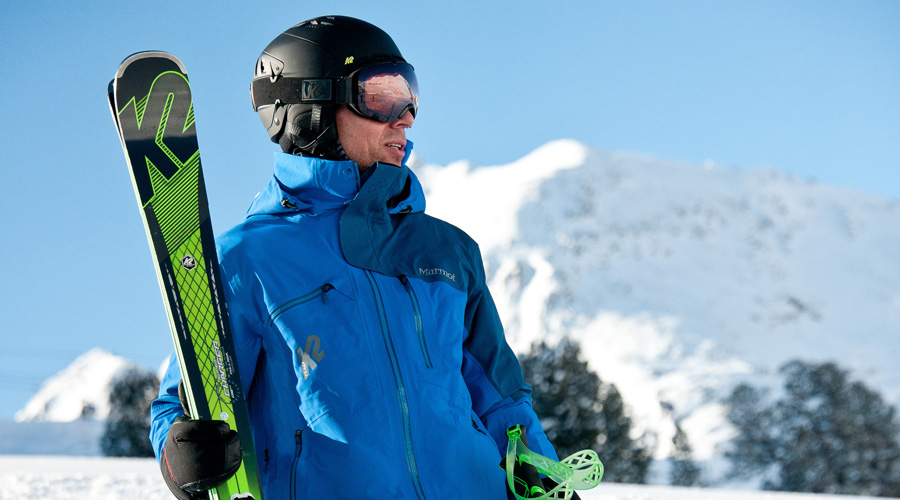 "We are putting PU in the sidewall of all of our skis for 2017/18," said Dustin Butcher, manager of marketing and creative for G3. "The big technology story for G3 is the polyurethane … for dampening the carbon fiber of the ultralight backcountry ski."
Not just for boosting your Omega-3 intake anymore, flax has been heralded by Salomon as effective for dampening out skis.
At Marker Dalbello Völkl, Curtis pointed to smarter design as the key to maximizing any ski's potential. "As significant as the materials are, it's the way skis are being put together that has evolved," Curtis said. "Our 3D Ridge construction, where the ski is thin on the edges and thicker in the middle, is an example of taking material we have and trying to make a better product."
Designers at Blizzard, meanwhile, haven't limited themselves to one type of carbon fiber; the company utilizes both the bi-directional and uni-directional versions in its skis. "We have learned how to use these specific types of materials for different needs," said Jed Duke, director of product marketing for Blizzard/Tecnica.
Everything In Moderation
Rocking a ski with some outrageous waist width used to spark both incredulity and admiration in others; in 2017, not so much. "After a number of years of skis getting wider and more rockered, everything is getting much more moderated," said Adam Ruscitto, K2 Skis global product line manager.
Across the board, manufacturers say that fat skis, with waist widths starting around 110mm, are falling out of favor. Four or five years back, wide boards were all the rage, purchased by recreational skiers to specialists — mostly in western states where true powder is more prevalent. Today, the waist width sweet spot for most consumers lies somewhere between 80mm and 100mm. When consumers are seeking out an all-purpose ski — a workhorse on the groomers and in the backcountry — an overall thinner profile is better.
In the end, skiers buy gear based on conditions, and most resorts have not seen a "mega winter" in years. As weather continues to shift and product design along with it, the once-mythical "quiver of one" is now a reality.
Photos courtesy Dynafit, Salomon and K2.