January is the long-awaited month all tech nerds wait for — members of the sports, fitness and outdoor industries are no exception — as the Consumer Electronics Show (CES) takes the stage in Las Vegas.
While cars and washing machines used to be the objects of attention, the popular gaze has made a huge shift to fitness-centric innovations. This is no surprise as tracking software has grown leaps and bounds over the last two years. Companies that attend with new gear now know there's only room for your A-game.
Here are 10 new products from CES 2017 that caught our eye:
PKparis is among many brands looking to distinguish itself in the wearable market. Its K'Track G & L wearable trackers are one standout, with the "G" measuring glucose levels for diabetics without blood extraction and the "L" similarly doing so for lactate levels.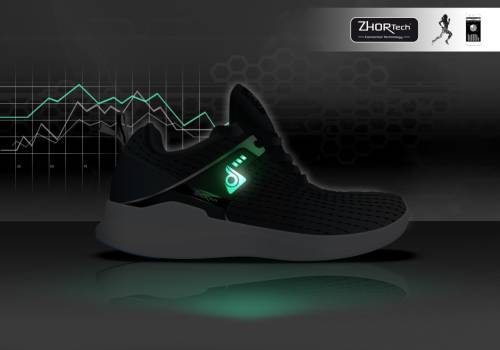 Zhor-Tech looks to innovate run footwear with its Active Cushioning Run Profiler (pictured left), a smart shoe that analyses in 3D the wearer's stride and the way they run, then adapts the cushioning of the shoe and the hardness of the sole to suit the runner's needs in real time.
2breathe Technologies hit on a prevalent health and wellness trend at the show — improving sleep. Its smart device and app induces sleep via guided breathing using a full-pattern bluetooth respiration sensor and patented real-time coaching technology. Guiding tones composed from the user's breathing prolong exhalation to reduce neural sympathetic activity and induce sleep.
Rifft is right on time with this trend — people who want a tracker's performance with a mechanical watch style.  Its CT Band does just that by letting users attach any standard watch face to its fitness tracking band.
Playsens solves a problem for swimmers in that they're not always able to look at their watch while speeding up and down the pool. So the Marlin reports the swimmer's pace through realtime audio feedback, including distance and navigation tracking in open water.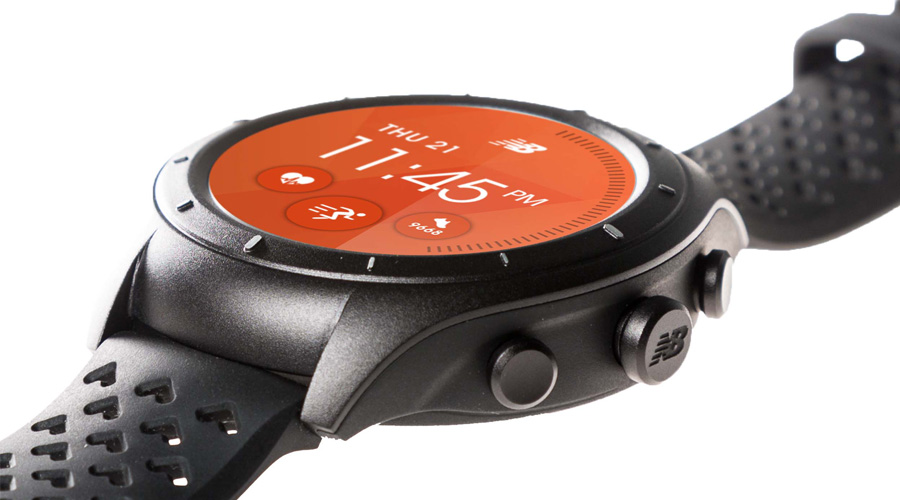 New Balance is now not only a footwear brand but a name in wearables. The company, which got its start in the early 1900s, debuted a smartwatch wearable called RunIQ (pictured above) in collaboration with Intel, Google and Strava. The innovation came from New Balance's Digital Sport Division — a division formed in 2015 to connect consumers with technologies to improve their athletic performance. RunIQ is being pitched as "made by runners for runners."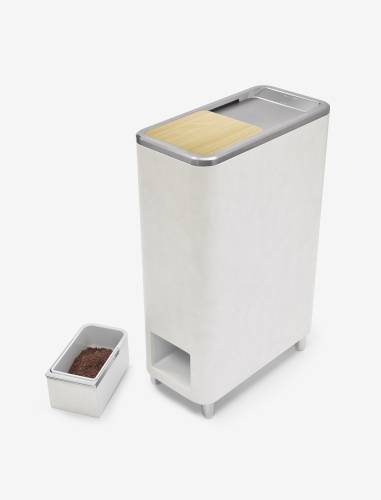 Under Armour got techy over sleep, coming to CES with a full suite of recovery integration between its new UA Athlete Recovery Sleepwear (powered by fabric technology researched by Tom Brady's brand TB12), updates to the UA Record app that include a sleep coach and UA Record-equipped running shoes meant to measure muscular fatigue in real-time.
Motiv decided to ditch the classic wrist wearable form and downsize to a fitness tracking, titanium-encased ring that also packs heart rate monitoring capabilities. The ring is also being marketed for sleep tracking — a popular trend we're seeing in 2017 fitness tech innovations.
Majestic, despite its impending split from Major League Baseball as new sponsor Under Armour slides in come 2020, is pushing new frontiers in smart garments with Swing IQ powered by Intel. Intended for users of all levels from high school to pro, the shirt contains motion sensors at three points to lend a 360-degree tracking of the wrist, shoulder and hip, analyzing the data of the user's swing. The new name of the baseball tech game is body kinetics.
Meanwhile Misfit, Garmin, Casio and Suunto all came to the show with new, sporty smartwatches.
Finally, our wildcard pick from the show … a garbage can. While Whirlpool's Zera Food Recycler (pictured right) won't make you lighter, faster or stronger it will help the environment, a growing selling point among sustainable-minded active lifestyle consumers. It's built to automatically convert household food waste into homemade fertilizer, handling a week's worth of discarded food for an average family.
Photos courtesy CES and manufacturers