A new StockX Verification Report released in conjunction with World Anticounterfeiting Day details the platform's latest advancements and metrics and a snapshot of its rigorous review process and the impact on consumers worldwide. 
The StockX Verification Report outlines that the company rejected nearly $90 million of products that did not meet verification standards in the past year. It also outlines quality control metrics, including why products are rejected during verification.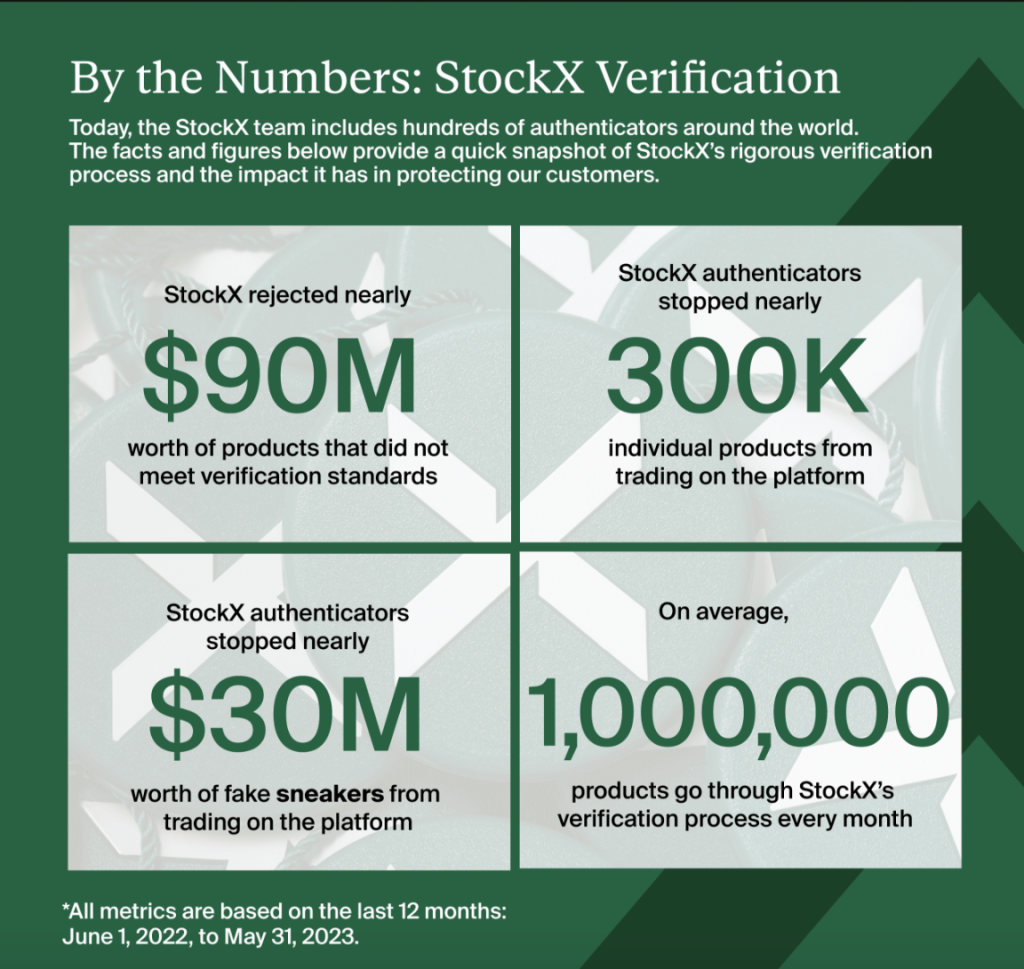 Topping StockX's list of reasons for rejection is manufacturing defects (27 percent) and fake products (20 percent), the second most cited factor for product failure. 
The report also noted that over the last 12 months, StockX authenticators stopped nearly $30 million worth of fake sneakers from trading on the platform.
The company said the StockX team spans hundreds of authenticators worldwide. In the last 12 months, it opened three new authentication centers, adding more than 180,000 square feet to its global footprint.
"I am proud of the global team we've built and our commitment to helping millions of customers secure the products they love at the right price," said StockX CEO Scott Cutler. "Knowledge is power, and this report offers visibility into our verification process and our efforts to deliver a best-in-class experience to buyers and sellers around the world."
According to the Organization for Economic Cooperation and Development, counterfeiting has grown to a $500 billion business.
StockX expanded its use of machine learning which helps forecast high versus low risk, and embedded technologies, including RFID and QR codes, provide additional data points for StockX to leverage during its verification process.
"As bad actors continue to up their game, so does StockX," said Paul Foley, the company's head of brand protection. "We've made significant investments this year, and we remain committed to evolving our use of technology, enhancing our systems, and employing industry experts in every corner of the world."
The StockX Verification Report also details which counterfeit products the company's authenticators have seen most frequently during the last year. 
Historically, high-value products are the most counterfeited, but the latest StockX data shows that even high demand lower price point items are counterfeited. The most popular fake sneaker and handbags over the last 12 months include the Nike Dunk Low Retro White Black Panda and the Telfar Shopping Bag Medium Black, with average resale prices of less than $200 and $300, respectively.
For more information on the recently-released StockX Verification Report, go here.  
Infographic courtesy StockX