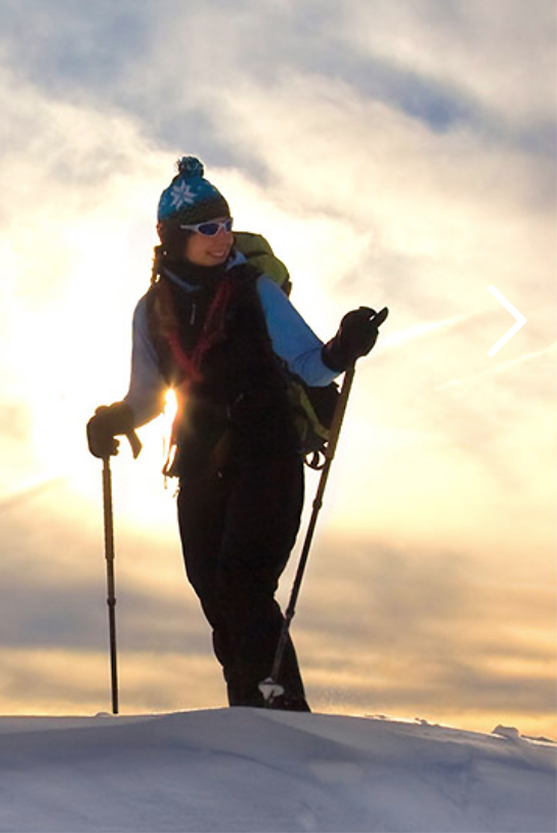 Today's growing interest in snowshoeing is in part due to snowboarders who needed a way to get into backcountry powder when banned from most ski areas.
Historically, snowshoes were essential footwear for trappers and fur traders whose life depended on being able to get around in areas where deep snows limited accessibility. Today snowshoes are used recreationally primarily by hikers and runners who want to continue to train through the wintertime. For general recreation, they're relatively safe and inexpensive with the added benefit of being gentler on your feet than walking or running the same route since snow cushions your footfall.
Wooden snowshoes are "traditional," and shoes made of other materials are "modern." You can divide snowshoes into three types.
Aerobic/Running (small and light; not intended for backcountry use), Recreational (slightly larger for use on moderate three-to-five mile walks/hikes), and Mountaineering (the largest size designed for serious hill climbing and off-trail use).
When walking the aisles at last month's OR Show, designers continue to tinker, tweak, and push performance parameters in the snowshoe category. Since today's well-constructed snowshoes can last five years or more, innovation is vital to drive replacement sales and inspire new users to give snowshoeing a try. We saw three driving trends in materials, applications, and comfort for the 2019 season.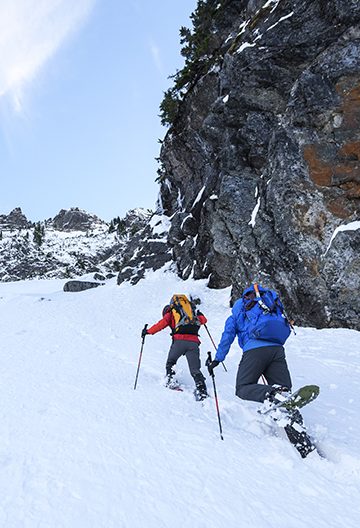 Improved Bindings Deliver More Comfort
Adjusting bulky bindings that won't stay tight are frustrating. In 2014, Garneau was the first brand to offer BOA technology. This year Garneau improved the brand's system with Premiere Contact OneShut. With a single twist, the harness system allows the user to fine-tune the fit.
When temperatures dip into the bitter cold, some plastics turn from supple and flexible to stiff and brittle. MSR's Paragon Binding solves that problem. The one-piece mesh TPU top strap eliminates pinching and pressure points found in older, more traditional bindings.
"Simplicity and comfort are the big stories. When you have a strap system that only cranks, the extra bulk, and the extra straps add hotspots and pressure points. After two hours your foot doesn't feel good. The Paragon Binding solves that problem. It's comfortable because it spreads the tension across the entire top of your foot. No one point bears the load as you walk." — Brandon Bills, MSR, Marketing Manager
Tubbs Mountaineer ActiveFit 2.0 Binding offers secure control, TPU cinch strap, and EZ Heel Buckle for single-handed adjustments.
Off Trail
For adventure snowshoe enthusiasts, the Atlas Apex Mtn performs well in both icy conditions and deep snow with an aggressive stainless steel crampon for traction on ice.
Yukon's A.T.S. offers an extendable snowshoe frame that adds five inches in length for enhanced float in deeper snow pockets.
Tubbs Flex Alp digs into traction with micro-serrated rails and toe crampons. The Faber S-Line offers three sizes for the backcountry and all designed to improve movement in wooded conditions and deep snow. "We're offering a new line of different lengths to make backcountry snowshoeing more accessible and less physically taxing breaking trail." — Guy Faber, President, Faber & Co.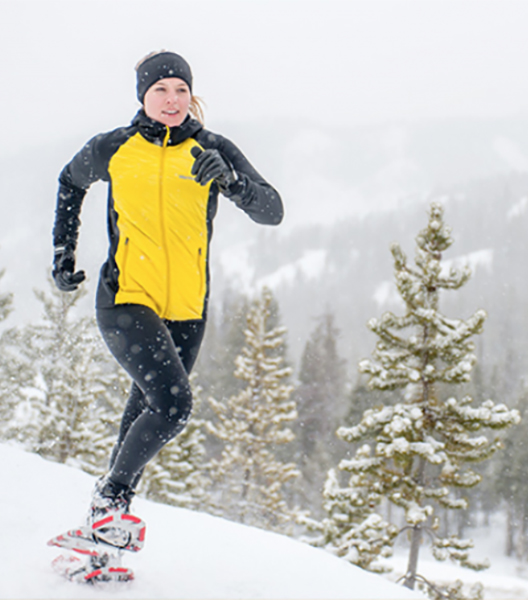 Advanced Materials Lighten the Load
In addition to the expanded use of TPU to craft more effective bindings, snowshoe designers are incorporating new materials in the construction of frames and platforms. The Komperdell Carbon Airframe models claim to be the "world's first pure carbon snowshoe." The hollow carbon frame and platform which is significantly lighter than traditional aluminum frames.
Crescent Moon's EVA Foam platform performs like a running shoe with a flexible platform of dual-density foam that makes walking more comfortable. Luna, the brand's latest model is designed specifically for women. "We have to expand the category and the only way to accomplish that is to take a chance. Everyone has a pair of running shoes, and these will resonate with them." — Jake Thamm, Founder, Crescent Moon
Snowshoeing is a treat if you love to explore the world on freshly fallen snow. When investing in a pair of snowshoes, the most critical feature is flotation. If you're not able to move on top of the snow, then all the bells and whistles defeat the purpose.
Photos courtesy Atlas, Crescent Moon, Faber, Garneau, MSR, Tubbs, and Yukon