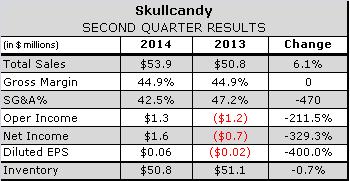 Skullcandy swung back to profitability in the second quarter thanks to solid growth in the United States, Canada and China and forecast growth would accelerate in the current quarter due to Friday's launch of its sports performance line of ear buds designed not to slip during periods of intense perspiration.

SKUL's U.S. net sales increased 6.0 percent to $39.5 million in the second quarter ended June 30 compared with $37.2 million in the same quarter of the prior year. International net sales increased 6.1 percent to $14.4 million from $13.6 million primarily due to growth in Canada, and to a lesser extent Mexico and China. Sales lagged in Europe due to late shipments and soft demand.

In-ear products, which increased to 56 percent of revenues from 53 percent a year earlier, drove the growth, followed
by Bluetooth speakers and accessories, which grew from 1 to 4 percent of quarterly revenues.
Gross profit increased $1.6 million, or 6.3 percent to $24.2 million, but remained flat at 44.9 percent of net sales compared with the second quarter of 2013. GPRO cut spending on personnel, licensing royalties and co-op expenses to reduce its selling, general and administrative expenses to 42.6 percent of net sales, down 470 basis points from the same quarter in 2013. The enabled the company to swing from a loss to a profit of $1.6 million, or 6 cents per diluted share in the recent quarter.

The company affirmed its guidance of full year sales growth in the mid- to high-single digits, but raised its gross margin, tax rate, other income, and EPS projections for the year. It now expects gross margin to grow 20 basis points to 44.7 percent, up 20 basis points. A higher ratio of U.S. sales will push up its annual tax rate a whopping 670 basis points to 24.7 percent. Earnings per diluted share is expected to reach 22 to 26 cents, up from previous guidance of 16 to 20 cents. For the third quarter, SKUL forecast net sales will increase in the 7-to-9-percent range, compared with second-quarter 2013 levels thanks to international sales, new categories and added distribution. SKUL is targeting a Q3 gross margin of approximately 45.0 percent, consistent with our actual Q2 and slightly higher than 2013 Q3 levels.

The faster growth will be powered in part by Friday's launch of a new line of ear buds at Dick's Sporting Goods, Sports Authority, City Sports and Olympia Sports and other retailers. The line features ear buds made from Stickygel, a proprietary material designed not to slip during running and other aerobic activities that cause profuse sweating. The launch "dovetails perfectly with the current trends in training that now include much more high-intensity interval training, like Cross Fit, Kettlebells, and obstacle races," Darling said.

In other comments, Darling minimized the threat posed by Apple's pending $3 billion acquisition of competitor Beat Electronics, which makes the Beats by Dr. Dre headphones.

"They play at price points generally $100 and $200 and up, while our kill zone is between $20 and $100," Darling said of Beat during a July 31 conference call about SKUL's second quarter results. "While Apple stores are a point of distribution for our brand, it was never that material. And we've been proactively reducing our presence with them in order to focus on other strategic partnerships since they started pushing their own ear buds in-store over competitor ear buds."

Darling also disclosed that SKUL will begin rolling out a new shop-in-shop concept with Sound Lion later this year as part of its efforts to better manage aging inventory in the United States. The Cambridge, MA-based retailer sells premium audio gear, including Beats by Dr. Dre, from five locations in Massachusetts and New Hampshire.