Skora Inc. will continue to use premium leather from Pittards for its expanded 2013 line of high-performance running shoes. An Oregon company founded in 2008 to "put the natural back in natural running," Skora said it is extending its exclusive partnership with Pittards, a U.K.-based provider of luxury goat and sheep skin leather for use in high-end baseball and golf gloves, footwear, upholstery and other products.


Skora selected Pittards for their incredibly durable material, with water resistance and breathability qualities that far exceed those of traditional leathers. For those whose runs often include puddles or creeks, the feel and suppleness of the goat and sheep skin leathers do not diminish through repeated wet-dry cycles.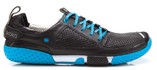 Skora's flagship model, the Form (MSRP $195), which debuted last winter to wide acclaim, will continue to feature a Pittards Armor-Tan Goat upper, and the liner will again be WR100X Sheepskin for a supple and luxurious, glove-like feel against the foot, along with excellent breathability.

Based in Portland, Oregon, Skora was founded in 2008 to build shoes that encourage biomechanically correct running performance with minimal interference.