Skechers USA Inc. said it posted a loss in the 2008 fourth quarter, a loss the company attributed to the weak retail environment. Lower margins for the period were the result of the company cutting inventories to match lower consumer demands. Net sales for the quarter declined 1.3% to $298.1 million as compared to $302.0 million for the year-ago period.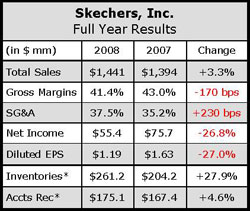 For the domestic wholesale segment of the company's business, sales decreased 1% for the fourth quarter.

The decrease in domestic sales is the direct result of the continued downturn in the economy which COO David Weinburg stated, "has caused many retailers to order fewer products, shut their doors and even in some cases, file for bankruptcy as consumers have significantly cut back on shopping."

As for the Skechers international wholesale segment, sales increased 1% for the fourth quarter. International wholesalers accounted for approximately $71.5 million, or 24% of total sales, an increase from 19% of the total in 2007. The company attributed this increase to its subsidiaries sales which improved 42% for the year. International distributor sales were down 2% for the fourth quarter.

Gross margin in the fourth quarter 2008 was 31.9% of sales versus 42.1% for the fourth quarter of 2007, a decrease of 1,020 basis points. SG&A expenses for the fourth quarter increased approximately 18% to $130.9 million, or 44% of sales, compared to $110.9 million, or 36.7% of sales, in the fourth quarter of 2007. This increase was primarily due to "increased salaries and wages, greater warehousing and distribution costs, higher rent and depreciation expense associated with retail store growth and increase in bad debt expense," according to CFO Fred Schneider.

The net loss for the fourth quarter was $20.4 million, or 44 cents a share, versus net earnings of $12.1 million, or 26 cents a share, in the year-ago period.

CEO Robert Greenberg commented, "We are continuing to develop fresh styles in our more well-established lines and look forward to our first full year of footwear from Bebe Sport, Punkrose, and the emergence of TapouT footwear in sport retailers and with specialty chains, and other key accounts."

"In the first half of 2009, we are focusing on reducing our inventory levels and expenses while maintaining our strong domestic and international presence in this difficult economic environment, which will result in us breaking even in the first half of 2009," stated COO David Weinberg. "As our inventory levels come more in line with our current expected sales and backlog, we believe we will return to profitability in the second half of 2009, and achieve annual revenues between $1.2 billion and $1.3 billion…"