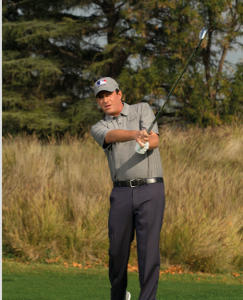 Skechers Performance—a division of Skechers USA, Inc. — announced the 5-year contract extension with GO Golf brand ambassador and PGA Pro, Billy Andrade. Andrade has been a part of the GO Golf pro team since the global footwear company debuted its line of performance Golf footwear and apparel.
A Bristol, Rhode Island native, Andrade first came on to the professional Golf scene in 1987 after helping to lead his Wake Forest University Demon Deacons to victory in the 1986 NCAA Championship. Andrade represented the U.S. in the 1987 Walkers Cup and has won 4 tour titles since going pro. Currently playing on the Champions tour, where he's banked three tour titles, Andrade is ranked number 13 on the Charles Schwab Cup, and has been featured in the Top 50 Official World Golf ranking.
"Since day one, Billy has been a great asset as we've grown the Golf division," said Rick Higgins, Skechers Performance Senior Vice President of Merchandising and Marketing. "He's been fantastic to work with and we are thrilled to have him on our Golf pro team as we continue to drive the brand's success."
As Skechers Performance enters its fifth year with Skechers GO Golf, the product line continues its rise to prominence on the global Golf stage, alongside an impressive roster of world-class Golf champions who serve with Andrade as ambassadors for the brand. At the January PGA Merchandise Show in the Orlando, Skechers Performance debuted the new 2017 GO Golf line, with Andrade making an appearance to sign autographs and meet fans. Skechers Performance also premiered the new GO Golf advertising campaign, which featured Billy Andrade along with Matt Kuchar, Wesley Bryan, Russell Knox, Ashlan Ramsey, Belén Mozo and Brooke Henderson, in various comedic settings. To view the new TV commercial click here.
"I love the GO Golf product and working with the Skechers Performance team has been a fun and creative collaboration," said Billy Andrade. "We have a great partnership and it's impressive to see how quickly the GO Golf line has grown. The product really does speak for itself—these are the most comfortable Golf shoes I've ever played in and they help keep me at the top of my game."
Photo courtesy Skechers