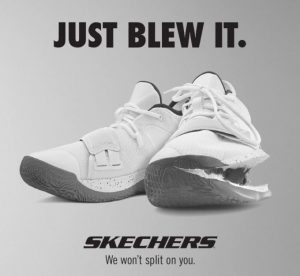 Skechers ran an in Sunday's New York Times lampooning Nike's widely-covered shoe malfunction that saw star recruit, Zion Williamson, injure his knee when a Nike model ripped apart.
The ad shows a non-branded version of Williamson's PG 2.5s torn through at the sole in exactly the same way as Williamson's pair.Beneath the shoe is the phrase "Just Blew It" – a play on Nike's trademarked Just Do It" slogan. The ad concludes with Skechers' logo and the statement, "We won't split on you."
The ad is also being run in publications such as USA Today, the Wall Street Journal and sponsored posts on Instagram.
Image courtesy Skechers