With virtually no early season snow nationwide, the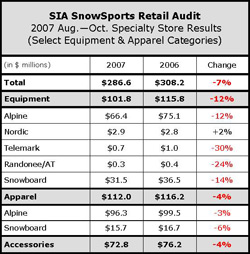 snow sports season got off to a late start this year and retail sales suffered as a result. SIA issued its first in a series of six retail audits covering specialty sales of snow sports apparel, equipment and accessories. Overall sales of snowsports merchandise fell approximately 7% to $286.6 million during the August-October period.
Overall equipment sales suffered the most during this early season period, dropping 12% to $101.8 million compared to $115.8 million last year with double digit declines in every major category except for Nordic equipment, which saw sales increase 2%.
Alpine equipment sales fell 12% to $66.4 million due to heavy declines in sales of carve-width ski systems, junior skis and moderate declines in mid fat skis. There are some strong performers in the category, however.
The twin-tip revolution is turning itself into revenues for specialty retailers with strong double-digit gains in the category. A 21% increase in the number of twin-tips sold was partially offset by a 4% decline in average selling prices. Overall revenues in the twin-tip category increased 15%. In addition, fat ski systems showed some exceptionally strong growth off of a small base.
Sales of alpine boots declined 12% in dollars due to falling sales in every category except high performance boots, which saw a 12% increase in unit sales. This was partially offset by lower average selling prices to net a 4% increase in revenues for the category.
Alpine binding sales were also driven by increases in higher performance product. Lower DIN rated bindings saw sales fall in the double-digits, while DIN 12-14 bindings saw sales grow 31% for the period. This shift is not surprising, given that most beginner skiers are looking at ski systems and not stand-alone bindings.
Snowboard equipment sales fell 14% for the period with declines in boots, bindings and boards. Freestyle and all mountain boards saw double-digit declines in sales and lower average selling prices. The only up-side for snowboard retail has been carry-over sales. Carry-over board sales surged 50% during the early season period with higher average selling prices, while boots and bindings both saw double-digit increases as well.
The late start to the season combined with the exceptionally warm winter last year has impacted inventories at retail. Ski system inventories are up 15% compared to last year while snowboard inventories are up 9%. With plenty of stock left on the shelves, this could be a difficult season for reorders.
Apparel sales were also impacted by the difficult weather conditions this year but even with normal weather, last year's 32% increase in the category would have made a difficult comparison. Overall apparel sales slipped 4% during the early season due to declines in insulated parkas and hard-shells.
The warmer weather had consumers choosing fleece over insulated parkas, with fleece sales increasing 8% for the period compared to a 6% decline in insulated parkas. In many categories, like hard shells, sales of women's apparel grew, but were more than offset by declines in the men's category.
In spite of a 4% decline in average selling prices, sales of soft shells grew 13% for the period. Inventories of softshells are up 21% over the same time last year as retailers dedicate more of their apparel buy to the category. Winter vests are coming back with sales increasing 17% due to low single-digit unit sales increases and overall higher ASPs, which jumped 12% to $109.
Snowboard apparel followed a similar trend, with a 6% decline in sales. Sales of tops fell 5% while bottoms declined 8%. Overall snowboard apparel inventories were 25% higher than at the same time last year.
Accessory sales were down 7% due to lower unit sales, which were partially offset by higher ASPs. The sunshine and warmer weather had consumers buying sunglasses over goggles; and gloves, mittens and headwear all saw declines during the period. The strongest performer in the category was winter boots with a sales jump of 40%.
On-line sales of snowsports equipment were a completely different story, with a 52% increase in overall sales through this channel. Equipment sales were up 86% for the early season period led by strong results from Alpine ski equipment, Telemark equipment, Nordic equipment and Snowboard equipment. All categories were bolstered by higher units sold and higher ASPs. On-line apparel sales were also strong, jumping 44%.