Writer: Carly Terwilliger
SnowSports Industries America members gathered at Meier Skis in Denver yesterday to take part in the first of five SIA Town Hall meetings. On hand were representatives from SIA and Outdoor Retailer, the latter of which is taking over the industry's winter trade show, now called Outdoor Retailer + Snow Show, which will take place January 25-28, 2018 in Denver.
The regional meetings, said SIA Communications and Marketing Leader Todd Walton, are a chance for SIA members and stakeholders to engage in a dialogue "outside of a trade show. We're completely transparent to anyone and everyone who wants to know what's happening at SIA." With the trade show off its plate, SIA is focusing its time and resources on a retooled and improved member experience.
It's been a busy time for SIA, commented the organization's COO Maria McNulty. The trade association moved to Park City, UT last year, brought on a new team and "revamped all the committees," she said, adding that a new all-digital education platform is launching next week. SIA is focusing on five elements going forward: membership, research, education, participation and events.
On the subject of research, McNulty said, "So many people don't use it. We're doubling our efforts to make it more accessible." The educational pillar will involve "flooding" its social channels, website and blogs with educational data. And with more town halls and think tanks, SIA hopes to "engage our members on a much more meaningful level." A new membership site will be live in November 2017 "with an exciting assortment of new features including special event registration, our new learning management platform for retailers and vital industry tools that will help you and your company," McNulty concluded.
SIA members also had an opportunity to meet Ryan Coombs, who steps into the role of research manager after the departure of Kelly Davis. Coombs outlined the general trends from last year, including "exciting growth in alpine skiing," a steady climb in cross-country participation, a "slight dip" in snowboarding and growth in snowshoeing. The best-selling size range for skis was 90 mm – 100 mm, and skis are continuing to skew lighter and stronger, utilizing new materials like flax and carbon. A bump in backcountry participation is in part driving the lightweight trend. Despite the snowboarding dip, Coombs pointed to 9 percent growth in under-17 participation, with females in that age range leading the way.
Participation received a lot of attention at the Denver meeting. "Everyone cares about participation," said OIA VP of Finance and Operations Jeremy Town. "It's front and center." Town also spoke about leveraging OIA's Outdoor Foundation, which among other functions manages The North Face's Explore Fund Grant. "Campus programs are more focused on fall activities," said Town. "How can we leverage them to promote winter sports participation?"
Both Town and Walton pointed to January, which is Learn to Ski and Snowboard Month and also Winter Trails Month, as a time to attract new participants. Winter Trails Month originally began with the snowshoeing piece of SIA, but has now expanded to winter activities like fat bike riding and trail running. Crossover appeal was called out as key to increased participation. For example, said Walton, SIA is asking questions like, "What other activities do cross-country skiers participate in?" and "How do we capitalize on the growing number of mountain bike riders that are crossing over into fat bikes?"
The combined Outdoor Retailer and Snow Show trade show was addressed by representatives from Outdoor Retailer, including OR Brand Developer Larry Harrison and Retail Relations Manager Joe Bustos. Topics included the new floor plan and when it would be released – soon, but not yet – as well as future show dates and Denver lodging. The logistics of having three shows in one year – OR Summer Market, an OR show in November and the January Outdoor Retailer + Snow Show – were also discussed.
"One thing to remember is that we already had three shows," pointed out Harrison, just in a different configuration. "If we need to change the dates in the future, the community will tell us that. The November show was never meant to replace the January show." Outdoor Retailer Account Executive Robert O'Quinn added that one brand planning to attend both shows is "excited" about the November show, which will be "a sales show for them, while the January show will be more of a marketing and storytelling opportunity."
The subject of storytelling and consumer engagement led to a question about the possibility of a "public day" in the model of what Interbike used to have. "We have had those discussions about doing a bonus day for the public," said Harrison, "But if you're going to invite the public, you have to have goods that are current. You can't say, 'Don't buy this now; wait for the new thing that's coming out in six months, it's going to be really cool.'" However, an end-of-season on-snow demo in Utah at the beginning of April may be able to serve a similar public-facing purpose, said McNulty, allowing brands to "engage the consumer on a personal level."
Registration for Outdoor Retailer + Snow Show is now open for retailer buyers and media.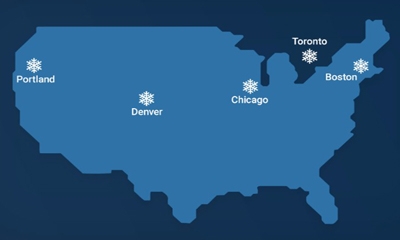 Future SIA Town Hall Locations And Dates
Chicago Town Hall – Friday, October 20 at the Renaissance Schaumburg Hotel and Convention Center, 1551 N. Thoreau Drive Schaumburg, IL 60173, 9 a.m. – 12 p.m.
Toronto Town Hall – Thursday, October 26, The International Centre, 6900 Airport Road Mississauga, Ontario, L4V 1E8, 9 a.m. – 12 p.m.
Portland Town Hall – Friday, November 3, Location TBD
Boston Town Hall – Friday, November 10, District Hall 75 Northern Avenue Boston, MA, 02110, 8:30 a.m. – 11:30 a.m.
Photos courtesy SIA