December's lack of snow had significant impacts on the snow sports market as snowed failed to fall in key regions across the country, according to the RetailTRAK numbers released by SnowSports Industries America Thursday.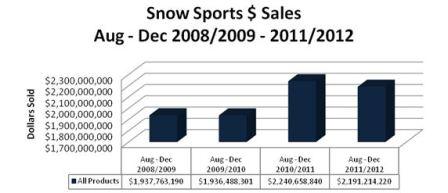 Snow cover across the contiguous 48 states fell from 48% in December 2010 to 23% in December 2011. Although the snow sports market suffered in December, sales remained above the 4-season average and a mid-January change in the storm track may help the market recover across the entire 2011/2012 season.

Snow Sports consumers obviously were affected by the lack of snow in December but demonstrated hope that winter was late to start rather than absent. Sales through December reached $2.2 billion, 2% below last season's record sales but above August – December Sales in the 2008/2009 and 2009/2010 seasons.
Sales between August and December were down 10% overall in units with pronounced decreases in accessories that consumers tend to buy on their way to the mountains including goggles, wax, and gloves. Equipment and apparel sales normally purchased with the slopes and trails in mind but before the trek to the mountains begins fared better with increased sales in major categories including alpine and AT/Randonee equipment and insulated tops.
Specialty shop inventories were up 16% overall clearly showing the lag in sales. Additionally, specialty shops sell-through was down 10% overall through December as consumers waited for more snow to fall.

Trends to Watch in 2011/2012


Reverse and mixed camber ski sales are up an astounding 75% in units sold to 87,000 pairs sold making up 23% of all alpine skis sold through December this season.

Insulated parka sales are up 4% in units sold as non-participants head to chain stores and online to buy snow sports apparel as casual wear. Internet sales of insulated parkas are up 18% in units and 14% dollars sold through December.

In-Season AT/Randonee boot sales are up 12% in units and dollars, and skins sales are up 10% in units sold and 12% in dollars sold.

Rocker snowboard sales account for more than 70% of all in-season snowboard sales this season. Sales of rocker boards increased 13% in units and 11% in dollars sold through December.

Weather
Snow was a scarce commodity in December 2011. Snow sports sales suffered specifically in response to the lack of snow in December. In fact, most variance in snow sports sales can be directly attributed to weather. In December this season, snow sports participants were very dependent on manufactured snow that has kept the market moving despite the snow drought that lasted until mid-January. In fact, snow cover was down more than 50% from levels in December 2010. However, hope remains for better conditions this season; as of January 24, 41% of the country was snow covered, and snow is now falling in key regions across the country.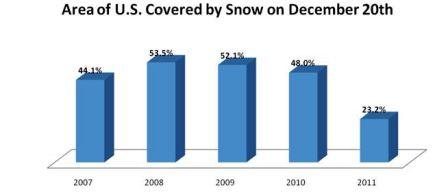 SnowSports Industries America (SIA) is the national not-for-profit, North American member-owned, trade association representing suppliers and service providers of snow sports products with constituents in the retailer, rep and resort communities. Established in 1954, SIA annually produces the SIA Snow Show, the largest snow sports industry trade show, on-snow demo and networking environment globally, while delivering invaluable data/research reports including the Snow Sports Market Intelligence Report, SnowSports RetailTRAK and Executive Market Summary.