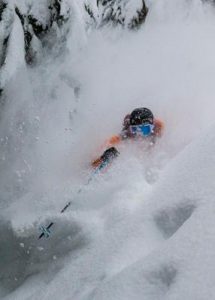 Shred and Slytech, creators of eyewear and protective equipment for skiers, snowboarders and mountain bikers, welcomed pro skier and mountain biker KC Deane to their teams.
"We're honored to call KC a friend and especially stoked to have him on board," said Ted Ligety, Shred and Slytech co-founder and chairman. "Not only are his passion and vision inspiring, they're also perfectly paired with the essence of the brands."
According to Co-founder and CEO Carlo Salmini, "Skiers, snowboarders and mountain bikers all share a true love for the mountains. And since their inception, Shred and Slytech have been committed to unifying action and mountain sports. KC shares this same commitment and passion – after all, he's built his life around it."
"Partnering with Shred and Slytech is such an amazing opportunity for me," Deane said. "As I expanded from skiing into mountain biking and became a dual sport athlete, I really wanted to find a company that had the same passion and drive that I do for both sports. While I'm focused on creating content, images, and video segments that make people want to bike and ski, Shred and Slytech are driven to create the best protective equipment and optics."
Known for his smooth style and eye for creative lines, Deane often works with some of the industry's most fabled photographers, including Grant Gunderson, Mattias Fredriksson, Chris Burkard, Steve Lloyd and Mason Mashon. Through these collaborations, he's appeared in many ski publications. He also produced and directed "Blank: The Movie."
Deane joins freeskiers such as Tom Wallisch, Keegan Kilbride, Andy Parry, Lupe Hagearty, Duncan Adams and Mike Hornbeck on the Shred and Slytech roster. The brands' bike team also includes Reece Wallace, Nic Hilton and Ryan Nyquist.
Photo courtesy Shred and Slytech