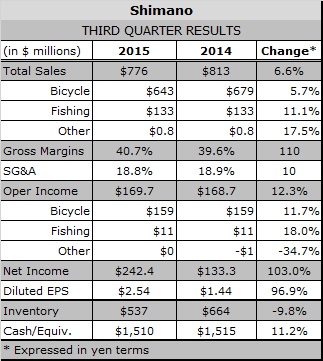 Shimano Inc. raised its earnings guidance significantly for 2015 saying the weak yen that accounted for the overwhelming bulk of its profit gains in the third quarter has become entrenched.
The Japanese company reported that while operating income grew by ¥2 billion ($17 million), or 12.3 percent in the third quarter ended Sept. 30, ordinary income, which also includes foreign currency gains, jumped by ¥15.3 billion ($132 million), or 79.9 percent to ¥34.4 billion ($296 million). That resulted in net income more than doubling to ¥28.2 billion ($242 million) on a 6.6 percent increase in net sales. Shimano did not provide currency-neutral figures for the period.
While Shimano did not break out currency gains for the quarter, they accounted for 92 percent, or about $155 million, of the ordinary income gains in the nine months ended Sept. 30.
Bicycle Components
Revenues at the companies Bicycle Component segment increased 5.7 percent to ¥90.3 billion ($643 million) amid brisk orders for new models of the Deore XT and Acera mountain bike components.
While Shimano's sales were somewhat lower in Europe than the year earlier quarter, retail sales of e-bikes remained brisk. Distributor inventories remained at "the appropriate level" in both Europe and North America.
In Japan, retail sales of sports bikes remained robust, while retail sales of community bicycles were weak due largely to price increases triggered by the depreciation of the yen. Distributor inventories of community bicycles remained somewhat high.
Retail sales of sports bicycles in China were below year-ago levels, reflecting the country's slowing economic growth. On the other hand, growth in sales of sports bicycles remained relatively robust in other emerging markets, namely Southeast Asia and South America.
Gross margins at Bicycle Components rose 110 basis points to 40.7 percent, while SG&A inched up 20 basis points to 22.8 percent. Operating income increased 11.7 percent to ¥18.5 billion ($159 mm), or 26.4 percent of revenues, up from 23.3 percent in the third quarter of 2014.
Fishing Tackle
Revenues at the company's Fishing Tackle segment increased 11.1 percent to ¥15.4 billion ($133 million), fueled by higher sales in Japan and robust growth overseas. Operating income increased 18 percent to ¥1.3 billion ($11 million), or 8.4 percent of net sales, compared with 7.9 percent a year earlier.

Guidance upgraded
Shimano now expects net sales to grow 10.5 percent to ¥368 billion in 2015, up from the 8.1 percent growth it forecast in late July. Operating income is expected to grow 22.3 percent, to ¥80.5 billion, up from the previous forecast of 17 percent. Ordinary income is expected to grow 40.1 percent to ¥99.5 billion compared with the 14.5-percent growth forecast in July, while net income is now expected to reach ¥76 billion, up 48.3 percent compared with 2014 and up significantly from the 16.1-percent growth forecast just three months ago.