According to the Manufacturers Sales by Category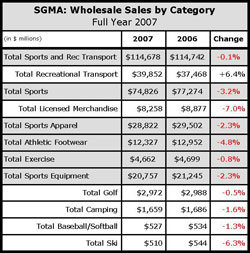 Report issued by the SGMA, total manufacturers' sales (in wholesale dollars) for the sporting goods and fitness industry in the U.S. grew at an annual rate of 3.3%. While down from rates in 2005 (+6.8%) and 2006 (+5.8%), the sporting goods industry has continued its streak of outperforming GDP for non-durable goods which was 2.2% in 2007, according to the U.S. Census Bureau.


Driving the gains were continued strength in athletic footwear, licensed athletic merchandise, fishing, firearms and martial arts. In athletic footwear, running, casual/fashion, sports sandals/slides, outdoor/adventure and kids showed notable increases. SGMA said sales in the martial arts category were driven by increased interest, promotion and participation in mixed martial arts and UFC-type events.
Stability in the fitness equipment, sports apparel, and team sports markets supported the gains in other categories. Football led the team sports categories. Ski and tennis equipment also showed solid growth. Ellipticals and ab machines led the consumer fitness equipment segment. The growth in these categories offset declines in treadmills, exercise cycles, paintball, bowling, billiards, and swimwear.
Looking ahead, SGMA said that sales in the industry were running at a 6% or higher clip until Q4 spending tailed off significantly reflecting consumer concerns about the overall economy. Based on GDP forecasts and projections from the Federal government, SGMA said there "does 't appear there will be a quick or large upturn in GDP for 2008." However, a potential bright spot could be the team sports business, which has generated "significant sales activity" in the first quarter of this year.
SGMA surmised that parents have made decisions to reduce spending in 'big ticket' areas to equip their families for team and league play at home. Martial arts and fitness equipment are also expected to continue to be strong as the result of continued promotions and the national momentum to get fit.