The finalists for the second annual SGB 40 Under 40 Awards will be honored at a banquet event on May 2, 2009 preceding the NSGA Management Conference and Team Dealer Summit in San Antonio, TX. If you would like to attend the event please download the order form at: http://www.sportsonesource.com/4040_Banquet.pdf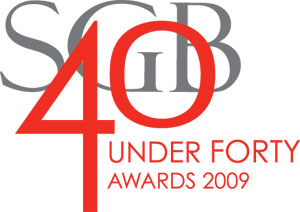 The finalists, honored by their peers as the best and brightest of the next generation of sporting goods industry leaders, were selected by a panel of SportsOneSource analysts and editors and a team of industry executives from over 500 nominations received over the first three months of the year.
"These awards are a way to recognize the great work done by some of the younger people in our industry," said James Hartford, president, CEO and group publisher of The SportsOneSource Group, which publishes the SGB trade publication. "The inaugural event last year drew very strong support as a necessary element in honoring the next generation of leaders. We felt co-locating the event with the NSGA conference, which includes the annual Sporting Goods Hall of Fame dinner, was a perfect fit."

This year, the banquet has been opened up so others in the industry can attend the event to honor the finalists. The banquet will take place on Saturday, May 2 and will feature a golf outing the next day prior to the NSGA conference opening reception.
The Honorees:
Jeff Beraznik, President, Cutters Gloves
Toby Bost, CEO, La Jolla Group
Jeff Brodeur, Inland Sales Manager, Navionics
Craig Brommers, VP Marketing, Speedo USA
Louie Burgos, Footwear Buyer, Jimmy Jazz
Faust Capobianco IV, VP/GM MLB Global Sales & Marketing, VF Imagewear/Majestic Athletic
Chad Clark, VP of Sales, Cliff Keen
Seth Cobb, VP General Manager, Merrell
Todd Dalhausser, GM Apparel, Saucony
Bob Dahlin, Buyer, Dunham's Sports
Nicole DeBoom, Founder & CEO, SkirtSports
Joe Earley, President & Owner, Tifosi Optics
Rod Foley, Director of Marketing, Running Footwear, Mizuno
Scott Frnka, VP – Field & Stream, Academy Sports & Outdoors
Joe Hyer, Owner/Founder, The Alpine Experience
George Kollitides, Managing Director, Cerberus Capital Management
Todd Levine, President, Alleson Athletic
BJ Maloy, Founder & CEO, Evolve Golf
Ted Manning, GMM, VP of Merchandising, Eastern Mountain Sports
Rob Minsky, Vice President of Sales, Haddad Brands
Rob Mogolov, Marketing Manager, Cramer Products
Jeremy Moon, President/Founder, icebreaker
Brian Moore, VP Footwear, Timberland
Dave Morrow, CEO/Founder, Warrior Sports
Roy Notowitz, Partner, Consumer Products, Generator Group
David Ortley, Director of Global Footwear, TaylorMade-adidas Golf
Nathan Pund, Partner, Silver Steep Partners
Todd Raskin, Owner, Trailblazer
Seth Richards, CEO, Implus Footcare
Kevin Sheehan, Director of Sales, Tippmann Sports
Dan Sheridan, Director of National Accounts, Brooks Sports
Todd Spaletto, VP Sales, The North Face
Mike Steck, VP Marketing, Yakima Products
Jason Steris, President & CEO, Volcom
Andy Tompkins, Group Show Director, Nielsen Sports Group
Nate Treadaway, President, Blackpowder Products, Inc.
Susan Viscon, Director, Merchandise Management, REI
Jason Volk, Director of Sales, Sports & Fitness, Oregon Scientific
Kim Walker, Co-Founder & Owner, Outdoor DIVAS
Austin Williams, Director of Retail Operations, Games People Play
For more information on the awards ceremony and reception, or to request tickets, contact Katie Bolick at 704.987.3450 x110 or e-mail Katie at: kbolick@SportsOneSource.com.