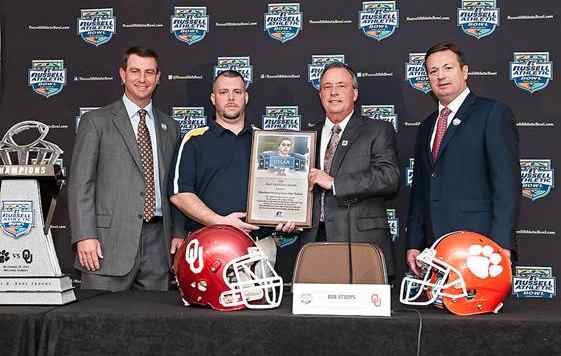 Russell Brands, LLC announced Shoreham-Wading River High School as the recipient of the fourth annual "Fight Like Dylan Award," which honors the courageous life of Dylan Rebeor, a high school football player who lost his battle with cancer and whose last wish was for new uniforms for his teammates. In honor of Dylan's character, courage and consideration of others, Russell is awarding a $50,000 team uniform and equipment grant to Shoreham-Wading River High School for demonstrating determination through adversity.

The Shoreham-Wading River Wildcats suffered a tragic loss on October 2, 2014, when junior linebacker Tom Cutinella passed away after colliding with an opponent during a regular season game. Cutinella was an outspoken leader on a Shoreham-Wading River team that was in the hunt for its first-ever Long Island (N.Y.) Class IV Football Championship, and whom just days before had pulled his team together to rally their spirits around the thought of being Long Island Champions.

"Tom not only shined on the football field, but throughout the halls of our school and in his community," said Shoreham –Wading River assistant football coach Tom Fabian. "He always put the team first, and wanted nothing more than to win for those guys on the field next to him. We are so honored to be receiving this prestigious award."

Following the tragic incident, Tom's family, friends, teammates and coaches decided that the best way to honor his memory was to play the rest of the season for their beloved teammate, and that is just what they did. Behind the motto of "Tommy Tough," the Wildcats went on to finish the season with a 10-0 record and their first-ever championship.

"We had an extremely difficult decision this year with hundreds of quality submissions across the country for the 'Fight Like Dylan Award,'" said Robby Davis, Senior Vice President and General Manager, Russell Athletic. "All of the judges were deeply touched by Tom's story, and we are honored to present this award to the entire Shoreham-Wading River community."

The Shoreham-Wading River story, like the three previous recipients since the program was created in 2011, is next in line with Dylan's tremendous story. After he became ill, Dylan's commitment and dedication to his team never wavered. In fact, his final wish was for his teammates to receive brand new uniforms through the Make-A-Wish Foundation for the upcoming season. The "Fight Like Dylan Award" was established by Russell Athletic in conjunction with Dylan's family and coaches to celebrate his life and selflessness.

To celebrate the award, select members of the Shoreham-Wading River High School community traveled to Orlando to be recognized and will receive the award during the Russell Athletic Bowl on December 29, 2014.

Previous recipients of the "Fight Like Dylan Award" include:
· 2011: Edmonson County High School (Edmonson, KY)
· 2012: Williamsport High School (Williamsport, MD)
· 2013: Buena Vista High School (Buena Vista, CO)

To be eligible for the "Fight Like Dylan Award," schools across the country submitted stories showing how their team overcame a challenge or triumphed in the face of adversity while embodying Dylan's spirit and courage. Former pro football head coach and current NBC Sports Football analyst Tony Dungy and pro football players Mark Ingram, Pierre Garcon and Colt McCoy served on the "Fight Like Dylan Award" selection committee, along with Dylan's mother, Heather Rebeor, and former Columbia Central High School head coach, Vance Belew.