With race participation slipping in recent years, a big American win and the gnarly conditions at the Boston Marathon shined a much-needed spotlight on the sport of running. However, race organizers and running industry execs still believe a renewed focus on delivering unique experiences will be necessary to again drive up race finishers.
On the positive side, a comprehensive study on running retention from Running USA that came out earlier this year found that race participation is on a path to stabilize. The study, based on a survey for more than 5,000 runners in October and November last year, also found numerous challenges around race events:
Cost is a major driver for race participation, particularly for females and younger runners
Only half of the respondents felt they get good value from their race experiences
Runners are looking for new experiences – events need to create new themes and experiences annually
Fitness classes more than other color, mud, etc. type events are taking the runner dollar
Time is a contributing factor – many just have less time
"The findings really confirmed what we have been hearing around the sport," Running USA CEO Rich Harshbarger told SGB Executive. "Essentially, runners will pay more for an 'experience' on one hand and are willing to participate in lower priced events if they are fun. The real follow up on our end as well as for the industry is to be able to properly define and execute on an 'experience'.  Our follow up is to help events understand how to best define that for themselves and not create fads or gimmicks in order to maintain longevity."
The report came after Running USA found that for 2016, participants in both the marathon and half-marathon declined for the second straight year. Figures for 2017 aren't out yet.
Some leveling off was expected to eventually occur with the rapid expansion of races spanning many lengths and styles for decades, including mud runs, Spartan runs and other non-traditional races in recent years. Between 1990 and 2013, finisher totals quickly grew from five million road race runners to over 19 million, according to Running USA. Since 2014, however, the sport has seen a shrinking of sorts, as totals for 2016 dropped under the 17 million finisher mark for the first time since 2012.
Race organizers saw the dip in race participation as a call to increase value and create better experiences for runners, partners, charities and communities. Interviews with running execs found agreement.
"The biggest thing is creating value for the participant," said John Rogers, principal, Fleet Feet Sports – Maine Running. "The primary running events creating value are holding their own, but the new events that pop up, need to create a unique connection or experience for runners."
Brent Hollowell, VP of marketing and vendor management, Fleet Feet Sports, said the reason destination racing is growing strongly is because they deliver memorable and once-in-a-lifetime experiences. Unfortunately, he agreed, some races don't measure up.
"Too many people got into the race game in terms of producing generic events that lacked attention and focus on the runner experience, and I think that's one of the reasons as to why we saw a leveling out," said Hollowell. "Like we see in retail, the customer experience has to be the absolute focus for success, and customers have the ability to choose how and when they'll engage with a brand, event, or retailer. It's those events that place a premium on creating a unique and engaging experience that will continue to thrive and attract runners."
Among the successes Rogers sees are urban running clubs offering additional experiences, whether it's a unique off-site location, such as a brewery; or the use of yoga, indoor treadmill running or some other social or fitness experience that can beadd another element to the experience. Added Rogers, "The 25-44-year-old is still running, they just want different social and fitness options included."
"I'd frame it all as the maturing of the events industry more than a reflection of individuals and their enjoyment of running," said Teague Hatfield, owner of the FootZone in Bend, OR. "I think running has everlasting appeal and events will always be an exciting part of that. Events have changed so much in the past couple decades (both in quantity and scale) and it seems natural things would even out a bit."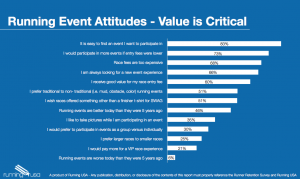 "I think running as a sport is as big as ever; it has just taken on a different shape as the culture of running has evolved in new directions," said Amanda Reiss, chief marketing officer at Saucony.
Reiss said that while runners may no longer be setting participation records at starting lines, many are still putting in the miles through weekly group run meet ups, fitness classes that incorporate running, and by being motivated by a variety of running apps.
"They are committed to the sport, and they are committed to their running crews," said Reiss. "Today's younger runners have turned to social media for the community connection that runners used to find only at their local road races, and running apps allow for friendly virtual competition among runners, no matter where they're hitting the pavement."
When it comes to the rising cost of entry fees, Saucony sees that many traditional races have turned into more robust running "events" − festivals with food, music and family entertainment – to broaden their appeal.
"Some of these changes have mirrored what's happening at fun runs, triathlons, and 'tough and dirty' events, where a festival-like atmosphere adds to the appeal," said Reiss. "Nevertheless, higher entry fees can be unaffordable to many families and of little interest to some individual runners. Additionally, weekend family responsibilities may allow for a morning run but not a scheduled event; even a 5K race can take a two-to-three-hour chunk out of your weekend schedule. So there are definitely hurdles to participating in organized events that are not incurred when engaging in running through other channels."
Asked about their incentives to enter race events, lower event fees were by far the most common response in Running USA's Race Retention survey, cited by 79 percent. Many of the other incentives involved offering something different, including offering non-traditional distances and challenges, cited by 26 percent; providing a more experiential event experience (music, yoga, fitness expo, etc.), 15 percent; and providing more elements than just running, 12 percent. Offering a more family friendly atmosphere was cited as a potential incentive by 16 percent and being more social by 13 percent.
Reiss said Saucony continues to sponsor road races, globally, in key cities, but also looks to support its retail partners in connecting with their local running communities through small-scale events.
Said Reiss, "We introduced a 'Run Your World Tour' that includes a fun run, but also another workout activity and a bar stop with prizes. These have been great for communities to participate in a fun, local activity with a low barrier to entry. We are also working with local school programs to inspire runners from the 'ground up,' offering a very casual and easy way to get out and run. And to address online shifts, we've initiated regular virtual running contests for our consumers along with our local partners, something that we will continue to evolve and improve."
In the spirit of inclusiveness, Fleet Feet recently rebranded its training programs to Fleet Feet Running Club, which invites runners of all levels to come run with their local Fleet Feet at any distance on every surface.
"We wanted to celebrate the heritage of our brand – our founders actually created Fleet Feet Running Club over 40 years ago – while also updating it to make it more relevant for today," said Hollowell. "The beauty of running is that it can be done in a variety of places, by people of all abilities, at distances both short and long. Fleet Feet Running Club ensures runners know that no matter where they are on their running journey, we have a program and group to run with them."
Rogers said Fleet Feet Sports – Maine Running's aim continues to be "very customer and experiential centric." 3D scanning was recently added to the fit experience, but the chain's programming and training experience has continued to evolve to embrace more social elements.
"We have a free Winter Warriors program and now have a free Run Club that caters to the evolving social and experiential needs and we've seen our numbers increase in those areas," said Rogers. "Our higher level beginner, 10K, Marathon and Half Marathon training continue to draw runners looking for a higher level of coaching, but we continue to limit the participants to create the coaching value and focus that they are paying for."
Hatfield feels while his store has constantly adapted since opening in 1995, the primary goal is to "meet people where they are and make them feel welcome."
Added Hatfield, "We celebrate our local running heroes right alongside the newest members in our IntroRun group.  They're both inspiring and represent just how adaptable and inclusive the sport of running can be."
BOSTON MARATHON PUTS SPOTLIGHT ON RUNNING
The Boston Marathon's grueling conditions of heavy rain and wind gusts that hit more than 25 miles per hour certainly created an indelible experience for those who finished. The spectacle will surely lead to more runners looking to tackle the legendary race in coming years.
"This was the 5th anniversary of the Boston Marathon tragedy, and with it, the definition of resiliency lives on," said Reiss. "From the heroism of the survivors running, to the fact that 95 percent of the field that started finished− all in a driving wind, rain and sleet storm. The 30,000 runners who prevailed in the worse weather conditions ever at Boston reflect the commitment that this collective community has to be part of the great Boston Marathon legacy."
Longer term, Desi Linden's achievement in becoming the first American women win in 33 years will likely serve as an inspiration for many future runners.
"When Americans do well, there's certainly more interest by Americans who come away inspired by the athlete and enamored more with the sport," said Hollowell.
Hollowell suspects Linden's win will only bring more buzz to the sport that has also recently benefited from the feats of several other American athletes, including Shalane Flanagan's win of the New York City Marathon and Galen Rupp's Bronze medal in the marathon at the Brazil Olympics. He added about Boston, "In terms of this year's race in particular, it created a great opportunity on the retail floor to talk about the importance of having the right gear. No matter how hard you train, you need to be prepared for specific and unpredictable environments."
Indeed, Rogers felt the fact that many unsponsored-athletes wound up coming in ahead of many elite Africans who don't typically train or run in the conditions that existed at Boston underscored the importance of being prepared and "geared-up" for the race, lessons the local run shop can provide.
But he also agreed whenever an American scores a big win, "it's always good for USA Running and is hopefully inspirational and aspirational to others."
Reis sees Linden's run inspiring women runners. She noted that the Boston Marathon already had a special place in women's racing with Roberta 'Bobbi' Gibb becoming the first woman to run the Boston Marathon in 1966, beating two-thirds of the all-men's field with a time of 3:21.
"She ran unofficially because the race directors at the time did not allow women to compete," said Reis. "Since then, over 250,000 women have officially run Boston, and now women make up 50 percent of the field. This year, seeing an American woman win Boston, breaking the 33-year drought of a U.S. female champion, speaks volumes on how far American women's distance running has come. And the drama of this particular race is one that will absolutely inspire many runners, new and existing, to set new goals."
Hatfield at FootZone said of the Boston Marathon, "It just celebrated the best of running in so many ways. Desi put on such a show of grace and grit and obviously it was exciting to see the results for so many Americans who wouldn't have expected top-ten finishes.  I doubt it changes much in the big picture but I do think it revved up anyone who loves running and probably brought a few more eyes to the sport."
Photo courtesy Saucony