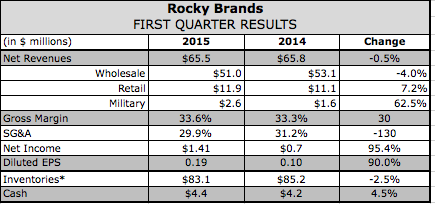 Rocky Brands, Inc. reported flattish sales in the first quarter of $65.5 million compared to $65.8 million a year ago but earnings doubled, to $1.4 million, or 19 cents a share, from $724,000, or 10 cents.
Wholesale sales decreased 4.0 percent to $51.0 million while retail increased 6.8 percent to $11.9 million. Military segment sales increased to $2.6 million from $1.6 million.
Gross margin improved 40 basis points to 33.6 percent, driven by higher wholesale gross margins, partially offset by an increase in military segment sales which carry lower gross margins than its wholesale and retail segments. SG&A expenses were reduced to 29.9 percent of sales from 31.2 percent, primarily due to a reduction in freight expenses and lower tradeshow & advertising spends.
"What was particularly encouraging was the fact that we were able to deliver such a strong bottom line performance despite some temporary top-line headwinds," said David Sharp, Rocky Brands' president and CEO, on a conference call with analysts.
The first headwind was the West Coast port slowdown, which led to an estimated loss of $2 to $3 million in sales due to stock outs. Sharp said that while the dock workers dispute was resolved in mid-February, "it's taken much longer than anticipated to work through the large number of ships waiting to unload their cargo which resulted in late deliveries and some missed opportunities during the quarter."
Approximately 90 percent of its first quarter business is derived from at-once reorders, and Rocky wound up being out of stock on several key styles.
The second top-line challenge related to Creative Recreation, which was acquired in December 2013. As a result of operational inefficiencies, spring orders were shipped in the first quarter of 2014. With improvements made, spring orders this year were shipped on time in the fourth quarter.
"These temporary factors were offset by pockets of strength throughout our business," said Sharp.
The highlight in Western was Durango Brands, which grew 30 percent and build on momentum seen last year. New styles in Rebel, Lady Rebel and Little Durango collection sold well and the brand is gaining new accounts. Rocky Brand western footwear were down due primarily to a tough comparisons against the successful launch the prior year of a collection of square-toed boots.
In work, Georgia Boot's sales declined modestly due to a combination of stock outs and missed deliveries of new product due to the port congestion.
The hunting category was up modestly on increased selling of spring seasonal product including lightweight more athletically inspired styles. Said Sharp, "Light work, sell through of insulated waterproof boots was buoyed by cold weather setting as up for a solid restocking situation ahead of the fall season. Bookings for the back half of the year for hunting are also up significantly."
While Creative Recreation's sales were down due to challenging comparisons, the brand recently realigned its sales force and they've opened new accounts and expanded within existing partners. Its 65 boots recently went on replenishment with some key accounts.
"The spring summer selling season is off to a good start across all tiers of domestic distribution as well as in the brands international market," said Sharp. "We're becoming more optimistic about Creative Rec's future prospects and looks forward for further operational improvements in the quarters ahead."