SGB sat down with Hattie Johnson – a landscape designer for River Restoration – to understand the river engineering firm's mission.
Writer: Travis Poulin
As climate change looms following the installation of an administration shifting toward business development over environmental protection, one company is taking steps to protect, preserve and improve the nation's rivers.
River Restoration, started in 2004 by Jason Carey, is a mission-based river engineering firm. Their mission is to support communities and make rivers into better places. Located in Carbondale, CO, the organization works throughout the United States. Current projects are taking place in Colorado, Wyoming, Iowa, Michigan, Wisconsin and Utah. Projects often result in the construction of whitewater parks for kayakers, rafters and SUP-ers.
SGB sat down with Hattie Johnson – a landscape designer for River Restoration – to gain some insight on what exactly a river restoration company does. Johnson's responsibilities include bank and river access design, marketing, public outreach, communication and fundraising.
"We separate ourselves from other engineering consulting firms by partnering with clients," which include municipalities, paddling groups and other non-profit organizations, "and helping them grow successful, community-supported projects," Johnson said.
"My favorite part of my job is expressing, in a graphic form, how a project will change the look of the river and how people interact with it," Johnson said. "The idea of a whitewater park or bank stabilization and access is somewhat nebulous to many people. I get to make pictures to describe what we mean when we use these terms when talking about our projects. Basically I play with colored pencils and Photoshop."
Johnson is no stranger to the river. She is an avid kayaker and raft guide, and treats the places she recreates as her home. "When I found this job, I didn't know river design was a thing you could do. It sounded too perfect a fit for my interests to be true." Johnson's love for the river does not stop at work and play – she also volunteers to coordinate events including the Clear Creek Clean Up in Idaho Springs, CO and the Gore Canyon whitewater race – GoreFest – in Kremmling, CO.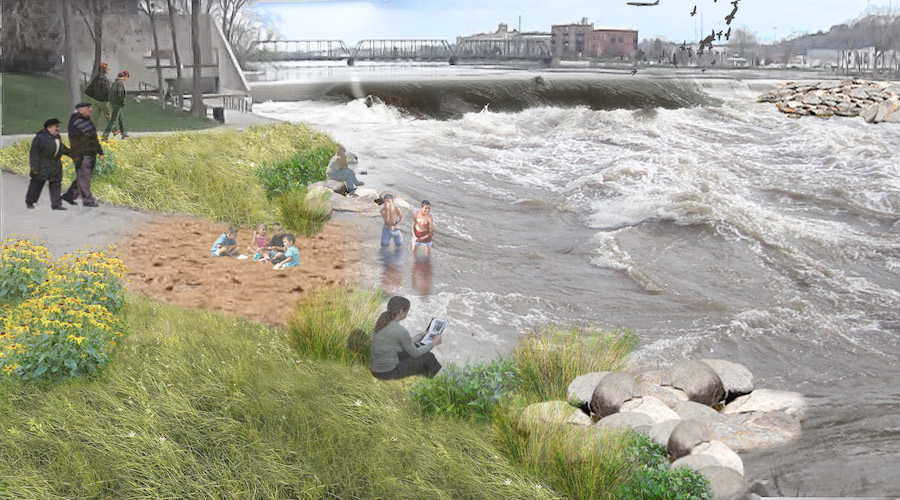 An example of a successful River Restoration undertaking is its Ogden River project in Utah that was completed in 2011. "For over 100 years, the Ogden River had been used as a dumping ground for waste material and channelized in an attempt to maximize industrial land to the detriment of stream health," Johnson said. "The project's vision was to restore a naturally functioning Ogden River with vibrant greenspaces connecting to the urban landscape. Riparian habitat was increased five-fold; a 1.1-mile river trail was aligned with boardwalks crossing over constructed wetland stormwater return areas; concentrated river access was created at over 20 locations, including innovative river access ramps; whitewater parks, fishing habitats and swimming-safe rapids were created throughout. Once a trash dump, the riverfront now is a new face for Ogden City. New businesses and restaurants have grown up along the banks and more are planned."
River Restoration is currently working on another milestone project in Grand Rapids, MI. "This project will remove five low-head dams, uncovering an existing bedrock rapid and installing many boulders to mimic the historic boulder garden that was dredged many years ago," Johnson said. "The project is still working on the permitting process, which is massive for a project like this. An economic impact study conservatively predicts the project will create a $15-19 million return." Eventually, the process will result in a whitewater recreation area.
As river restoration programs develop, more college students are focusing their degrees and careers on maintaining rivers and habitats. "Communities around the country are rethinking the waterways they were built around. Quality of life has factored higher on why college graduates decide where to move their job availability," Johnson said. "Much of the infrastructure within waterways of the U.S. are aging and failing. Scientists also have massive amounts of data describing how this infrastructure has been detrimental to river habitats and how that, in turn, affects the human environment."
Johnson said she is wary about funding for river restoration programs under the new presidential administration. "In my opinion, river restoration is essential to the future. We have already seen funding programs for river restoration lose money since the new administration. Regulations of waterways by the federal government cause long delays on many of our projects and the process could use improvements. I am fearful what simply stripping out regulation could do to the environments we depend on."
Photos courtesy River Restoration