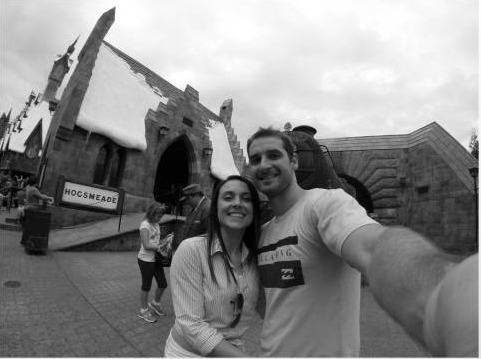 Rider Sandals will sponsor a "two year couchsurfing trip around the world." A couple, Rômulo Wolff, 34, and Mirella Rabelo, 32, have left behind good jobs, their salaries and stressful lives in São Paulo, Brazil to travel around the world, tackle their bucket list and inspire others to go out and live their dreams.
Wolff and Rabelo will be recording all their experiences – and Rider will be compiling and sharing the couple's pictures and stories on a new page called The Trip in an effort to encourage others to embrace adventure and live out their dreams.
The initial inspiration for the "Travel and Share" adventure came last August, when Wolff moved back to Brazil after living abroad for nine years. After only a few months of living in São Paulo, he found himself wondering what it would be like to leave the stressful, chaotic life of working in the city to go on the trip of his dreams. In November of last year he met Rabelo, who had unconventional plans of her own. She wanted to take a sabbatical year, start an online business and see the world while working. "After living abroad, we have both dreamt of living out an adventure like this – it is in our blood. We are going to do whatever it takes to see it through," said Wolff.
True to their word, Wolff and Rabelo are finally living out their shared dream of leaving their cookie-cutter jobs as they embark on an adventure to explore 40 different countries on six continents. During their trip, the two self-professed travelaholics, sports lovers and adventure junkies plan to stay on peoples' couches as much as they can, using an online community called Couchsurfing to ask for accommodations. As it is customary for couchsurfers to leave a gift behind as a thank you, Rider Sandals has equipped Wolff and Rabelo with 1,000 sandal key chains – enough to leave one at each house they stay at on their "inter-couch-inental" journey. The key chains are made in exactly the same way that Rider Sandals are crafted: with recycled materials, in some of the most eco-friendly manufacturing plants in the world.
The duo will be also wearing sandals from the 2015 Rider Sandals line on their trip. As the world's first after-sport recovery footwear, Rider is the perfect fit for the adventure Wolff and Rabelo have planned. In the spirit of leaving every part of their comfortable lives behind, the couple will be working through a bucket list of activities on the trip. This list includes out-of-the-box adventures the couple has always dreamed of but has never had the opportunity to do before, including hafting, bungee jumping, flying in a hot air balloon, scuba diving, running a marathon and crossing a desert, among many others.
Wolff and Rabelo's adventure photos and blog, as well as their social media posts, can be followed on the Rider website: http://www.ridersandals.com/the-trip.