With Dick's Sporting Goods releasing second-quarter earnings next week and Hibbett Sports usually close behind in the timing of their release, and back-to-school shopping in full swing in the market, a new report from Placer.ai looks to be rather timely.
"In our previous look at the sporting goods category we analyzed several trade areas and the demographic characteristics of visitors for the leaders in the space – Dick's Sporting Goods and Hibbett Sports," Placer.ai said in a blog post related to the data. "With summer and back-to-school season underway, we dove back into the location analytics for Dick's and Hibbett in order to take a closer look at the latest foot traffic trends for the retailers."
Rising Stars
The report said that compared to 2022, foot traffic to Dick's continues to be impeded by the effects of inflation. But growing consumer confidence and signs that inflation may be slowing appear to be having an impact on visitors to the retailer. At the end of H1 in June 2023, year-over-year (YoY) visit gaps to Dick's tightened to just 6.1 percent down, a significant improvement from the end of calendar Q1 in March (-10.9 percent). Placer.ai said Dick's has also continued to emphasize experiential and outdoor-focused outlets that meet the demand for outdoor travel and retail entertainment, which could help the company narrow its visit gap even further as the economic outlook brightens.
The report said Hibbett Sports had a strong 2022 that lends a tough comparison for 2023. Yet the chain is bolstering foot traffic to above or near last year's levels with the continued success of its multi-retailer returns program and omni-channel strategy. Through June 2023, Hibbett sustained YoY visits at near 2022 levels, narrowing its visit gap to just 1.1 percent down in June 2023, according to the report.
Long-Run Winners
Zooming out on the sporting goods and apparel retail spaces since 2019 reveals that Dick's and Hibbett are again in a position to drive foot traffic during this year's Back-to-School season, according to the Placer.ai report.
The report's analysis of visits compared to a January 2019 baseline showed that Dick's and Hibbett have experienced elevated visits for a majority of months. Placer.ai said both brands generally receive a foot traffic boost in August at the height of back-to-school shopping, when Dick's and Hibbett tend to outperform the wider apparel category, which includes retailers with similar back-to-school offerings. If previous years' trends continue in 2023, these sporting goods brands could expect another foot traffic surge this month.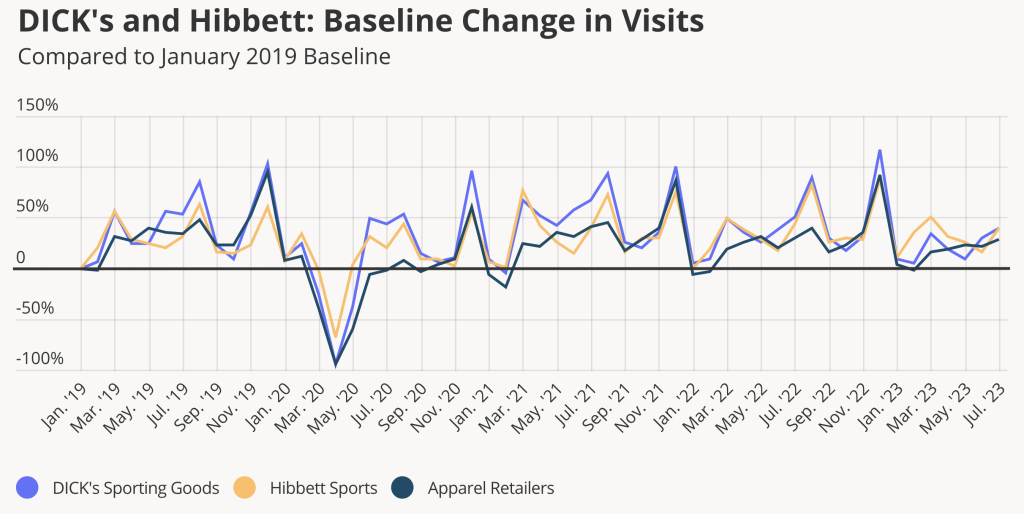 House of Sport
Placer.ai observed that Dick's continues to assert itself as the dominant sporting goods brand, and at least part of the chain's success reportedly lies in its experiential store concept, House of Sport, with features including batting cages, climbing walls, and an outdoor field at some locations. First introduced in 2021, Dick's opened nine House of Sport locations in 2023 and plans to grow the format to some 100 locations over the next five years.
Location intelligence metrics support Dick's continued investment in House of Sport stores. Placer.ai's analysis of the first three House of Sport locations revealed that, in the first half of 2023, all three venues were in the 98th percentile for visits and over the 80th percentile for visits per square foot compared to sporting goods stores nationwide. The report said this is noteworthy considering that House of Sport locations are significantly larger than the average Dick's store.
The data suggests that House of Sport stores capitalize on the demand for retail experiences, and their unique capacity to drive traffic could make them well worth the large real estate investment.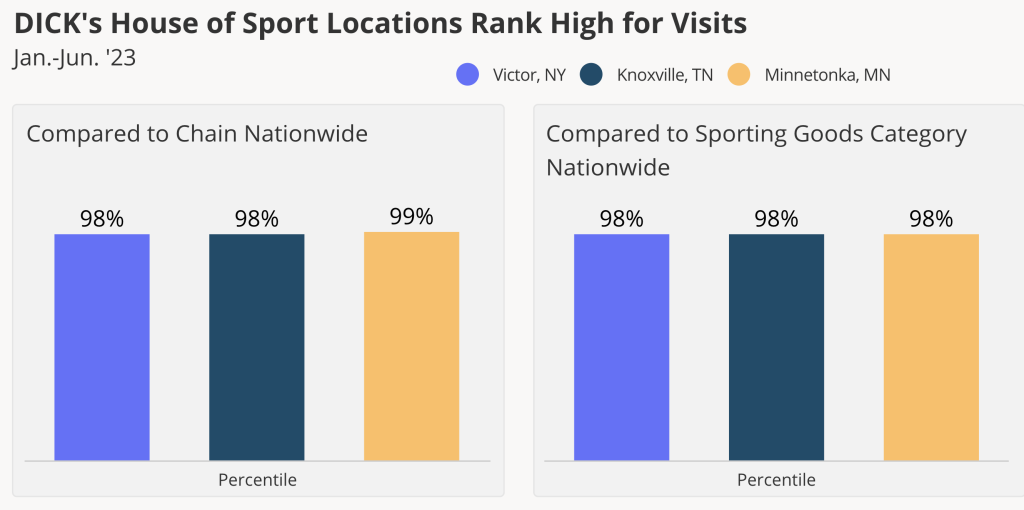 "As consumer confidence continues to grow, and with the Back-to-School season in full swing, foot traffic to sporting goods leaders Dick's and Hibbett is likely to continue to recover from inflationary headwinds. And Dick's largest experiential concept,  House of Sport, is likely to attract consumers eager to try out the latest gear in time for school," Placer.ai concluded in its post.
Graphics and data courtesy Placer.ai, photo courtesy Dick's Sporting Goods, Inc.