Recreational Equipment, Inc. will officially open its distribution center in Bedford, Pa., a 525,000 square-foot building on 43 acres on Friday, Nov. 30. Constructed using leading green building standards, the distribution center will help REI significantly reduce transit times of stock replenishment to stores and more quickly deliver orders to co-o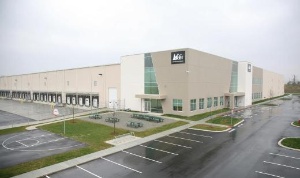 p members and customers.

"REI's second distribution center supports the co-op's goals to increase our presence in the Eastern United States while also improving service to our existing stores, as well as our members and customers in the region," said Brian Unmacht, REI's senior vice president of sales, store development and logistics. "Equally as important, the facility highlights the co-op's commitment to environmental stewardship to minimize our impact on the planet."

Fully operational in the coming months, the eastern region distribution center will employ 350 professionals at the peak of its operations. The team will distribute high-quality gear and apparel to REI stores from Boston to Atlanta as well as in the Midwest and Texas, representing up to 40 percent of the co-op's stores. Forty-two of REI's 96 stores will be serviced by the distribution center in Bedford. Additionally, the distribution center will support approximately 50 percent of the co-op's direct-to-customer business, and approximately 1.2 million active co-op members that reside east of the Mississippi.

"REI's new distribution center complements our aspirations to reduce our company's overall environmental footprint through decreased greenhouse gas emissions and waste stream," added Dave Presley, vice president of Logistics for REI. "Early next year we anticipate being one of the largest distribution centers in the country certified by the U.S. Green Building Council."

"Green building" is an environmentally responsible approach to design and construction that optimizes the energy efficiency of a structure, minimizes its environmental impacts, and when done well, results in buildings that have lower operating costs and are more comfortable and healthier to be in for employees and guests. Building upon more than 10 years of the co-op's leadership in green building design, the Bedford facility was constructed using the U.S. Green Building Council's LEED (Leadership in Energy and Environmental Design) standards, specifically to achieve a LEED-New Construction silver® certification.

A number of REI's building and property features in Bedford are considered industry-leading for a distribution center of any size. For example, 12 additional acres were purchased so that REI could create a natural wetland for local wildlife while managing storm water runoff and the building was sited to take advantage of sun and wind direction during warm summer months and icy winter months. During construction, REI donated an existing house previously located on the property to Habitat for Humanity. All heavy construction equipment vehicles were powered by B20 bio-diesel, and an on-site concrete and mixing plant kept hundreds of truckloads of concrete off local roads during construction, both efforts helping to reduce carbon emissions.

In the completed facility, more than 360 windows and skylights allow a significant amount of natural daylight throughout the building, helping REI to reduce its energy use by more than 33 percent. There are more than six miles of conveyor belts in the distribution center, half of which operate only when boxes are on a given section, reducing energy use and noise throughout the building. Water efficiency measures include native landscaping that does not require irrigation as well as the installation of dual-flush toilets, low-flow sinks and showers, and waterless urinals. The company also created 30 preferred parking spaces for carpoolers and fuel-efficient vehicles, in addition to furnishing 20 bike stalls and six employee showers to accommodate bike commuters. A private recycling vendor was contracted to recycle glass, office paper, cardboard, plastic bottles, packaging and shrink-wrap, as there is currently not a pick-up program for businesses and residents in the community.

"The opening of our Bedford distribution center is a significant accomplishment for the co-op, and one that celebrates our values and dedication to providing the highest level of service to our stores, members and customers," stated Chris Joyce, director of the eastern region distribution center. "I am very proud of the accomplishments of our team, especially the partnerships we have established with recreation and conservation nonprofits. These groups are working to increase access to outdoor recreation and education, to create advocates for our natural spaces."

The Bedford facility is the company's second location and complements REI's distribution center in Washington state. The Sumner, Wash. distribution center is 606,000 square feet including a primary building and two annexes, and opened in 1992 after relocating from Tukwila, Wash. Also housing the company's direct sales division, REI's distribution center in Washington employs more than 800 individuals, which includes part- and full-time staff. During the company's peak season, more than 1,000 REI employees are based in Sumner.

In addition to its green distribution center, REI has been involved in green retail store design since the planning, construction and opening of the co-op's innovative Seattle flagship store in 1996. In 2004, REI's Portland, Ore. location became the first retail store in the country to earn the U.S. Green Building Council's LEED gold rating for commercial interiors, followed by REI's Pittsburgh store with LEED silver in 2006. In October 2007, REI opened its first prototype store in Boulder, Colo. to test new retail concepts and the performance of next-generation green building features. In addition, the company is also involved in U.S. Green Building Council's LEED for Retail pilot project, which has the goal of creating certification procedures that are less costly and time intensive for the retail construction industry. REI Boulder is the first store to be constructed using LEED for Retail criteria.