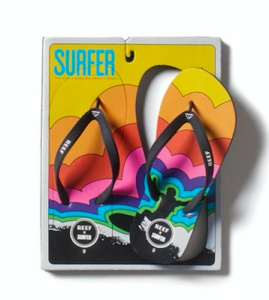 Reef partnered with the iconic Surfer magazine to create a collection of magazine cover inspired sandals and t-shirts. With a unique pop-out design, the sandals provide an experience for the buyer while keeping the magazine artwork preserved.
The collaboration came about after browsing through a collection of vintage magazines and referencing Reef ads from the Surfer Magazines of the 90's. Both brands are iconic within the surf community, so the collaboration was very natural.
Continuing with the Vintage California theme from last season, the Reef design team chose four covers from different eras from the 60's through the 80's. The covers show the progression of surfing culture from artistic graphics and illustrations with ocean and sunsets to bright fluorescents and short shorts.
The unique pop-out design concept came from our design team, who wanted to do something that really stood out and wasn't just another printed sandal.
"We were inspired by the concept of framing an old album cover or vintage magazine and hanging it next your surfboards in the garage," said Paul LaBarbera, director of footwear design. "Something a surfer would think of as art versus just another sandal that would sit by the front door. By keeping the magazine shape, we were able to bring the artwork to life."
The Reef X Surfer collection is available at surf shops and select retailers.
Photos courtesy Reef